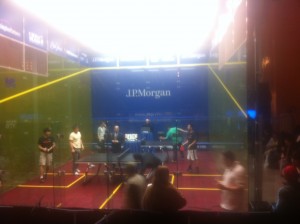 The Transom stood at the end of a $40,000 ping-pong table inside Grand Central Terminal's Vanderbilt Hall, paddle in hand. Two players representing Verizon (a self-described "M&A guy" and "venture capital guy") stood at the other side, ready to spar. Fittingly, the table (an all-black "collector's piece") was the practice surface for that afternoon's event, a Wall Street ping-pong tournament benefiting Big Brothers, Big Sisters of New York City.
We knocked our first ball into the net; another bounced by as we watched. Not our game, perhaps.
Other matches took place 100 feet away, where tables had been set up inside a squash court, a massive, four-walled glass box littered with ping-pong balls and surrounded by bleachers. Nearby, officials huddled around the tournament's bracket.
The teams spanned the financial sector: J.P. Morgan, The Economist, Angelo Gordon and Co., et al. Two teams no-showed, we overheard. "Do you know who wouldn't peel themselves off a trading floor to play some pong at lunch?" we asked one participant.
"Yeah, but I'm not telling you," he snapped (we later heard that Third Point Capital's Daniel Loeb—a known ping pong fan—was a no-show, though some employees subbed-in for him).
Inside the court, Harlem-based ping-pong pro Wally Green grinned, playing against Team Verizon using his BlackBerry as a paddle, dissembling them with ease. The streak didn't last.
Mr. Green's pong partner—a sub-in for a finance friend, Kip Gould (of New York City's theatrical play clearing house Broadway Play Publishing)—took a few volleys.
Mr. Gould backed up for one, smacking the glass wall, the loud thud echoing throughout the terminal. Mr. Green suppressed a laugh, watching the ball miss the other side of the table.
The Verizon Guys high-fived.
Later, Mr. Green was found recapping with the victors. "A few times, he could've put us away, and he didn't," a Verizon player admitted.
He shrugged off the compliment, but later divulged: "I went nice on 'em."
Mr. Green plays on the International Pro Tour, and is a legacy player at downtown pong club Spin. Had he ever hustled any finance folks there?
Naturally.
"This cocky hedge fund guy came in with his girlfriend." The man started harassing Mr. Green, who then accepted a challenge to play with his phone. "He bet me $200 a game. I won $800. The first mistake he made is when he walked into my club, and didn't see the big painting of me hanging there."
We had to ask: Was Susan Sarandon—an investor in Spin along with business partner/rumored boyfriend Jonathan Bricklin—a decent player?
"Whenever she's not doing work, she's at the club," Mr. Green confided, with a lilt of secretiveness in his voice. "She's learning. She gets nervous at times. She's not a pro, but she understands: this is a top spin, this is an underspin. She's not bad."
fkamer@observer.com | @weareyourfek