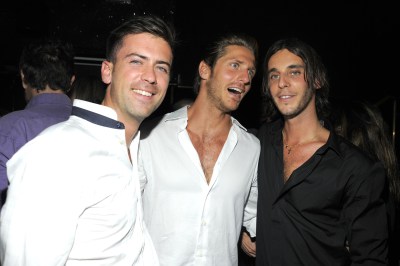 Updated: An earlier edition of this item suggested that Ms. Hilton was at the club at the time of the assault. She was in Las Vegas, celebrating her birthday and winning a lot of money. The New York Observer apologizes for the error.
Today's biggest headline in the New York Post wasn't about Jeremy Lin or Cardinal Tim Dolan. How refreshing! Instead, the story of the day is about a spat at the Meatpacking Club Double Seven club on Saturday night, between former owner of Hawaiian Tropic Zone, Adam Hock, and a group of very young adults with very old money. The night ended with a sprained shoulder for Mr. Hock and an alleged broken jaw for 24-year-old Prince Pierre Casiraghi, the grandson of Grace Kelly. Mr. Hock is now being charged with four counts of third-degree assault.
Fights between socialites and bar owners are usually relegated to Page Six. So how did Emily Smith's team make Saturday's punch-up front page news? The answer might lay in a throw-away reference to the rest of the prince's posse.
Hock, 47, said he was just defending himself and the bevy of models seated at his table after Casiraghi, Paris Hilton ex Stavros Niarchos and scenesters Vladimir Restoin Roitfeld and Diego Marroquin became "belligerent" and "aggressive" because he was at a better table than them.
Without getting into the he-said, he-said of the ordeal (Mr. Hock claimed that the kids were drinking his friend's bottle service, while party promoter Nima Yamini said that Mr. Hock "just went nuts") take a look at some of those names. Paris Hilton and her ex-boyfriend Stavros Niarchos were always a terrible combo: those two can't enter a bar without it basically exploding into a flurry of fists. Vladmir Restoin Roitfeld (the son of French Vogue's former editor, Caroline Roitfeld), Diego Marroquin, and Prince Casiraghi, on the other hand, might be well-known party-goers, but their names aren't usually tied to bar brawls.
And reading the testimony of events, it did seem as if the original beef was between the shipping heir and Mr. Hock. While the first Post story assumed Prince Casiraghi as the instigator:
Hock, 47, had been partying with friends — including Double Seven owner Jeffrey Jah, hairdresser-to-the-stars Joel Warren and catwalk stunners Natasha Poly, Valentina Zalyaeva and Anja Rubik — when Casiraghi strolled over to their table with shipping-scion pal and Paris Hilton ex Stavros Niarchos III and two other men at around 2:30 a.m., witnesses said.
…the front-page story today had Mr. Hock switching his story over to blame Mr. Niarchos:
"My friend Peter Bakker [supermodel Natasha Poly's husband]

(editor's note: yes, this would be the same Natasha Poly who just purchased a posh condo at 100 11th Ave)

was there at our table with his wife and two other top models. I went to the bathroom, and when I came back, I could see there was hostility between Peter and Stavros Niarchos," Hock said.
Not that Mr. Hock himself should be let off the hook, considering the history of women suing him and his partners for using
the Hawaiian Tropic Zone as a brothel
. So why is the focus on the prince?