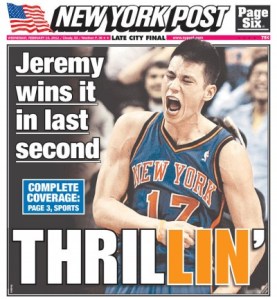 In a Q&A with the New York Post, Knicks phenom Jeremy Lin said that the loss of privacy attendant with his instant fame is tough, because he's "low key and private" by nature. But at least the media's a "good platform," he said.
Platform for what, you ask?
"For God, for God's glory, and I think that's shown in a lot of different ways. It simply could be the way I live my life, what I talk about in my interviews, what I talk about through social media. It could be what I do in my spare time, what I do through my foundation . . . just a lot of different areas . . . how I spend my offseason."
The man has a foundation!