The long-awaited fifth season of Mad Men is just beginning to tease us with its marketing campaign, and so far are driving us crazy with their ambiguity. (For the love of god, someone release a photo of Draper in a wedding tux!)
Now that we have some video footage of Betty and some photos of Don Draper looking longingly at store mannequins, we are ready to make some guesses about next season.

Don and his lifeless models (that he's not sleeping with, zing!)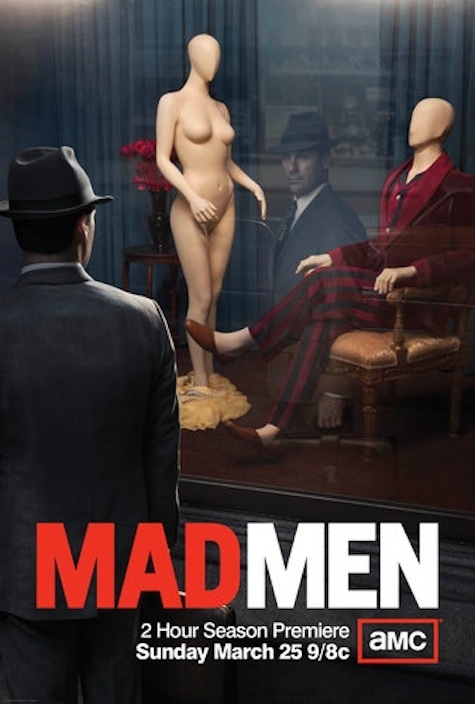 Betty teaser trailer:

Pete continues to whine like a little bitch:

Roger and Joan continue to play out their weird daddy/daughter issues:

Season 5 summary:
With Don Draper out of work after Sterling Cooper Draper Pryce folds (damn Lucky Strike account!) he considers going back to his true passion: selling department store clothing. Unfortunately, times are tough for an old-school Mad Men during the swinging sixties, and his measly salary isn't paying for Betty's Valley of the Dolls/Mommy Dearest lifestyle of booze and pills, let alone child support.
Realizing that he's spent his life objectifying women as inanimate objects, Don and his new fiancee Megan move out to L.A. to start their lives anew as Height Street hippies. Meanwhile, Betty learn that autonomy doesn't necessarily equal happiness as Sally runs away from home and becomes a Vietnam War protester and Bobby turns out to be a homosexual.
Pete and Peggy decide to consummate their attraction, finally, and his wife finds out, leading to the inevitable Alison Brie spin-off show where her character joins a traveling band, Trudy and the Beats. For awhile they debate trying to get back their child from season one, but Peggy decides it will be difficult having two babies in the house.
Meanwhile, Joan and Roger continue to bone, and Joan's husband definitely dies in the Army. Or does he? When his camp is invaded and he's left for dead, Dr. Greg Harris goes AWOL by assuming the identity of another soldier, and moves to the Midwest to sell insurance as Tom Taper. And thus the circle of life is complete, hakuna matata, the end.