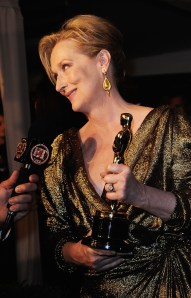 Last night's Oscars were as draggy as ever–perhaps it's time to give up the ghost of the hope that they can magically become a breezy ceremony, or at least to stop complaining annually that the jokes are hackneyed and the show's self-congratulatory. The jokes being hackneyed are kind of the point, and, given that this is a Hollywood trade show, the self-congratulation is REALLY the point. And the tributes would not have been so terrifically vague had they been able to be directed at nominated films people had seen–the Bridesmaids-a-palooza in the middle of the show should serve as a reminder of what the tributes at the Oscars look like when they're aimed at hit movies from this year and not "hit movies from all time."
The show's biggest surprise came late in the evening, when Meryl Streep beat out supposed front-runner Viola Davis for the Best Actress trophy; for those hoping for an epochal Oscar moment, it was both disappointing (Ms. Davis would have been only the second ever black Best Actress) and vivifying (Ms. Streep's Oscar was her third–and her first since 1983). The rest of the ceremony went according to plan, with top nominees The Artist and Hugo both winning five awards, the former in major categories and the latter in minor ones.
What else sticks out the morning after? Emma Stone's eagerness to take from Anne Hathaway the mantle of "the one eager to sing and dance" after it didn't quite work out for Ms. Hathaway. Chris Rock nailing sixty seconds of standup and, yes, fine, whatever, the same old Billy Crystal jokes Mom and Dad like. (We will say we've never gotten the "What the nominees are thinking" thing, but people apparently like it?) The Christopher Guest-directed Wizard of Oz parody, so utterly random it felt like a wonderful mistake. The indication that Tom Cruise has been rehabilitated by Hollywood in that he got to present Best Picture. Perhaps the best moment of last night was the appearance of Melissa Leo, the weird warrior queen of the 2011 Oscars, in a relatively normal sequined dress presenting an Oscar to someone else. Last year, she stole Kirk Douglas's cane–and this year, she just smiled and applauded and watched time march on and another Oscar ceremony enter the books.