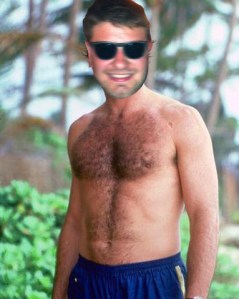 Earlier today, D.C. gossip rag FishbowlDC published a post declaring "an unusual trend" developing among female "campaign and White House reporters" using "provocative, sometimes sexy photographs of themselves for their Twitter accounts." As examples of this "trend," writer Betsy Rothstein cited The New York Times' Ashley Parker, Maeve Reston of the Los Angeles Times and The Hill's Amie Parnes, all three of whom have, in this reporter's opinion, absolutely normal, appropriate avatars.
Since Ms. Rothstein's post only accused women of spurring this "sexy" avatar trend, I found her post to be a clear example of the objectification and double standards that have existed far too long surrounding women in the workforce.
In order to express solidarity with my female colleagues who were falsely accused of having oversexed Twitter profiles, I decided to show Ms. Rothstein and FishbowlDC what a "provocative" avatar would actually look like. This afternoon, I changed my Twitter avatar from a fairly standard shot to an incredibly sexy mashup of myself and shirtless Tom Selleck. I also encouraged other male reporters to join me. So far, Village Voice editor Tony Ortega, City & State managing editor Andy Hawkins and media man about town Nick Rizzo have all answered the call. I sincerely hope others will join this movement.
Full Disclosure: From 2008 until 2009 this reporter worked as a contributing editor at FishbowlDC's sister site, FishbowlNY.
(Updated for maximum hilarity 3:13 pm)