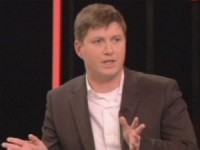 After having his legacy defiled by Brett Favre's genitals it appears Deadspin founding editor Will Leitch will be writing for the Gawker Media sports site on a regular basis once again.
Mr. Leitch, currently a sports columnist for New York Magazine, announced the news on his personal blog: "I'm proud to report that The Projector"—the Yahoo! blog for which Mr. Leitch and film critic Tim Grierson wrote about film—"lives!"
In December, Yahoo! shut down The Projector along with three other blogs that were part of an original content initiative by Yahoo (the shutting down of said blogs was apparently much more unceremonious than the typically unceremonious blog killing).
The new resurrected Projector will take the form of four to five film reviews or essays per week, to be posted to Deadspin and cross-posted to Gawker.com. The original face of the inherent evil that is sports blogging explained:
We'll be posting the reviews/essays on Deadspin and cross-posting them to Gawker, because: a) I'm more comfortable using Deadspin's interface; B) [Deadspin editor Tommy] Craggs is an easier editor to get on the phone than Daulerio; and C) [A.J.] Daulerio's gonna have other film coverage on Gawker and we don't want people thinking we're all there is. We're very excited about this and do hope people enjoy it.
fkamer@observer.com | @weareyourfek