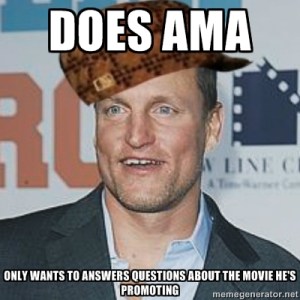 Yesterday we suggested fun questions to ask Woody Harrelson during his AMA (Ask Me Anything) session on link aggregation juggernaut Reddit, but as it turned out, our suggestions were probably mooted by Mr. Harrelson, who clearly did not understand what he was getting into. Mr. Harrelson appeared to treat the question and answer session like any other sit-down interview focused on promoting his upcoming film, Rampart, and that was his first mistake. Reddit users (Redditors) flayed him for the strategy, and have continued gleefully roasting the actor as only Reddit could for the last 24 hours or so.
What happened? Where did it all go wrong for one of Hollywood's most happy-go-lucky weed activists? Probably at the outset. Redditors take the literal meaning of AMA seriously–they expect to be able to ask the subject anything. That's just what a Reddit user with the screen name "AndyRooney" chose to do:
I swear this is a true story. I went to a high school in LA and you crashed our prom after party (Universal Hilton). You ended up taking the virginity of a girl named Roseanna. You didn't call her afterwards. She cried a lot. Do you remember any of this and can confirm or have you been so knee deep in hollywood pooty for so long that this qualifies as a mere blip? (…)
"AndyRooney" appears to have edited the question to add additional commentary but Mr. Harrelson's response to the original query, while perhaps predictable and understandable, was a good example of the sort of answer that is like raking nails across a chalkboard to any long-time Redditor: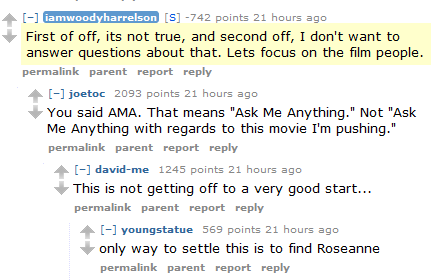 Reddit user "bersh" commented, "Should change this AMA to AMAAR (Ask Me Anything About Rampart)," and Mr. Harrelson's answer to that statement didn't help at all: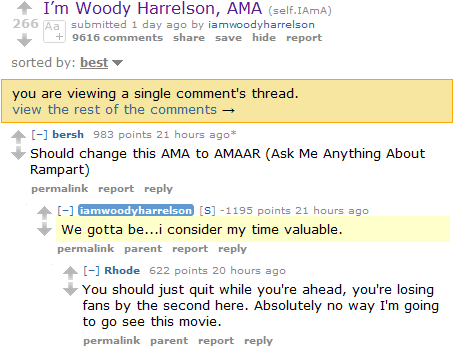 For further fun times you can check out all the instances where Woody Harrelson/some publicist answered questions by following links from this post in the original Q&A thread.
For anyone not inclined to go poking through the many Reddit threads and associated (often hilarious) images surrounding the Woody Harrelson AMA Debacle of '12, a Redditor using the handle "Dulljack" may have summed up  the situation fairly well with the following imagined bit of dialogue:
Agent- "Hey, there is this website called Readdit where we can pitch Woody's new movie! Every person on it is in our target demographic!!!"
Publicist – "Sweet, let's go piss them off!"
EPIC HIGH FIVE!