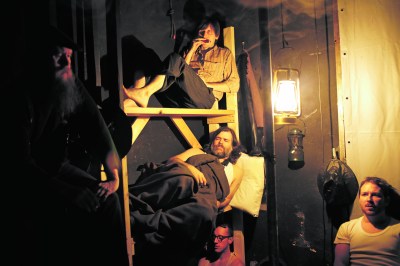 "This isn't what we normally do, take a play and simply stage it," Ari Fliakos said over the phone recently.
Mr. Fliakos is an actor and a company member of the Wooster Group, which since its founding in the late 1970s has become one of the most influential theater ensembles in the world. No one would accuse the group and its director, Elizabeth LeCompte, of staging anything simply. Since long before the Internet era, their shows have conveyed a complex, fractured, frightening, seductive sense of information overload.
So the strange thing about watching the group rehearse Early Plays, its new production of three little-known Eugene O'Neill one-acts, at St. Ann's Warehouse last week was what it wasn't: it wasn't the Wooster Group we've come to know.
In Wooster Group productions there are often too many things happening on stage to take in at once. Voices are amplified and altered; the actors move with carefully choreographed chaos; video screens seem to be everywhere. The Group's 1993 production of O'Neill's iconic play The Emperor Jones alternated frenetic activity and eerie stillness, the ingenious sound design seeming to emanate from every surface. Its Hamlet, in 2007, recreated the play using, as model and "script," the black-and-white footage of a 1964 filmed version starring Richard Burton. In 2002, The Observer called To You, the Birdie!, the group's version of Racine's Phèdre, "completely, utterly nuts."
Early Plays, which opened on Feb. 15 and runs through March 11, seems, well, the polar opposite of nuts. The sound isn't distorted; there isn't any video; the acting is less stylized, more straightforward. The change is the person in charge: in a rare collaboration with someone other than Ms. LeCompte, the playwright and director Richard Maxwell has combined his own troupe, the New York City Players, with the Wooster Group actors for a production with a different spin on the Group's experimental ethos.
As it happens, Mr. Maxwell was a Wooster Group intern in 1994, when they were preparing O'Neill's Hairy Ape. "Watching those rehearsals I got a feeling from Liz of how much specificity matters when it comes to the moment-to-moment unfolding onstage," he said. "I don't think she and I really share an aesthetic, but there is a rigor underneath what we do."
Early Plays brings together three of the four "Glencairn" plays, named for the fictional ship on or around which they are all set. Atmospheric, laconic and thick with varied accents, the plays date from the mid- to the late-1910s, just before O'Neill's star rose with Beyond the Horizon, which won the Pulitzer Prize in 1920, and Anna Christie, which did the same in 1922.
According to Mr. Fliakos, the Group chose the plays by serendipity.
"Someone had written 'Sea Freight Returns' on the calendar at the Performing Garage," he said, referring to the space on Wooster Street in Soho that has been the Group's home for over 30 years. "And Kate [Valk, a star of the Group since the beginning] thought it was a new work called Sea Freight Returns, but it turned out that it was just that the sea freight, the sets and things, was returning from a tour. But that gave us the idea of breaking out the sea plays again. They had been touched on when we had read through O'Neill's stuff in the past. And this time Liz said, 'Well, what do you guys think?' And it just seemed right."
But Ms. LeCompte wasn't inclined to direct it, and asked Mr. Maxwell if he was interested. The Group had worked with other directors before, notably the downtown stalwart playwright Richard Foreman, but not for some time; Mr. Fliakos, who has been a full-time member since 2000, said he had never worked with anyone at the Group other than Ms. LeCompte. And Mr. Maxwell's style in directing his own plays is a significant change: restrained, droll and almost affectless where the Wooster Group tends to be vivid and virtuosic.
"My thing is: we've got to hear the words," Mr. Maxwell said. "We have to hear the text as unadulterated as possible. I want to give the text without selling it or spinning it, so that the audience can decide for itself."
>> Hear Richard Maxwell's "I Am Yours," performed Jan. 24, 2012, the Wooster Group and the New York City Players.

"Rich has a philosophy that is so simple and so hard to put into words," said Ms. Valk. "He doesn't want to see acting that interferes with the clarity of hearing the writer's words resonate in the space. You're not watching 'interesting choices' made by the performer. Liz might put a lot of systems out there and ferret out the order from the chaos. With Rich it's a journey that happens step by step. There's not chaos. He's making a score for us, little by little."
The O'Neill plays are idiosyncratic and thick with dialects, sometimes almost to the point of incomprehensibility. There was a period in this production's development when Mr. Maxwell considered staging plays of his own, written in response to O'Neill's themes. He also flirted with synthesizing his own writing with the originals before settling on an evening of three of the plays (In The Zone didn't make the cut) linked by several of Mr. Maxwell's own folksy, keening songs, which will be performed by the company.
Working through, rather than around, O'Neill's thorny language, the emphasis has been squarely on the clarity of the text.
"A lot of the Group's aesthetic has been devoted to tricking ourselves," Ms. Valk said. "For me this is like letting go of all these things that Liz has always set up for me almost to trick me into the outcomes of those performances. I'm not saying I'm a dumb mule—you have to be on your toes—but with Rich you're out there in a different way."
Ms. LeCompte is, by all accounts, keen on controlling every aspect of her productions. That she was willing to relinquish that control shows both a shift toward collaboration and a widening of the scale of the Group's operations, and ambitions. During the development of Early Plays she has been in Hong Kong working on a video project as well as handling an upcoming retrospective of the Group's film and video work at Anthology Film Archives and looking ahead to a major coproduction of Troilus and Cressida with the Royal Shakespeare Company in Straford-upon-Avon in August, part of the festivities surrounding the London Olympics.