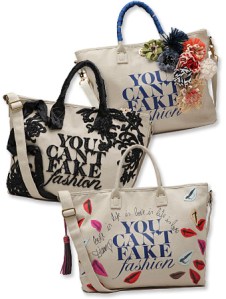 Back in July, 50 big-name designers including Tory Burch, Diane von Furstenberg, Derek Lam, Alexander Wang, and Rebecca Minkoff teamed up with Ebay and the Council of Fashion Designers of America (CFDA) to create tote bags bearing the anti-counterfeit message "You can't fake fashion."
The campaign was an attempt to decrease the cases of fake bags being sold and bought on the online marketplace. Fine. People want to protect their intellectual property, which makes sense. (Unless we're talking about the MPAA and SOPA.) But instead of keeping these designs as an online exclusive, the CFDA has turned their message into art: showcasing the bags in display boxes lining the walls of Lincoln Center during Fashion Week. And that's taking it too far.

Much like people's issue regarding SOPA, the "You Can't Fake Fashion" campaign is offensive because it can be perceived as a "rich person" problem. Most people at Fashion Week do not make the kind of money that these 16 designers do, and it's hard to think of buying a knock-off Prada bag in Chinatown as egregious of a crime as, say, charging $38,000 for a crocodile handbag in the first place. Or charging people $135 (a steal!) for the privileged of owning a glorified tote bag with your fashion propaganda scrawled across it.
If this was just limited to online sales, it would have been less offensive. But pushing the message during an event that makes $865 million a year just highlights the absurdity of these high-end designers wagging their fingers at people who buy knock-offs. People don't get fake bags because they have an institutional dislike of designers–the way people might not pay for TV or movies because they don't agree with the "Hollywood Machine" but still want to watch Iron Man 2–but because they can't afford the real thing.
Talk about 1% problems!