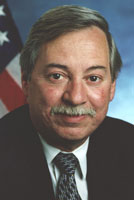 Against the backdrop of the contentious turf war over Governor Andrew Cuomo's pension reform plan, a trio of Democratic Assemblyman and several labor leaders are calling for passage of the Institutional Investor Recovery Act. This legislation would allow the Attorney General to seek damages and recoveries when public pension funds suffer losses due to securities fraud. Currently, the Martin Act gives the Attorney General broad powers to prosecute securities fraud, but it does not allow the State to recover losses on behalf of public pension funds. Pursuing losses from financial firms is a favored topic of opponents of the governor's pension reform push who argue the focus should be on penalizing Wall Street firms that lost money from the pension fund rather than cutting benefits.
"All the focus on the issue of pensions has been on the benefit side of the equation. We need to look at what happened on the investment side. It simply doesn't make sense that the pension funds have no practical way to recover investment losses caused by fraud," said Assemblyman Peter Abbate the lead sponsor of the bill to update the Martin Act.
Proponents of Governor Cuomo's pension reform plan, including Mayor Michael Bloomberg, argue the Wall Street meltdown isn't the sole factor behind ballooning pension costs.
The Institutional Investor Recovery Act was also sponsored by Queens Assemblyman Rory Lancman.
"For years, Congress and the courts have systematically eroded the ability of defrauded investors – including pension funds – to bring civil cases to recover their losses, putting the retirements of countless hardworking New Yorkers at risk," Mr. Lancman said. "Reforming the Martin Act would protect both retirees and taxpayers, and bring some much-needed accountability to Wall Street."
Brooklyn Assemblyman Joe Lentol is also backing the legislation.
"As elected officials, it is incumbent upon us to safeguard public investments, such as contributions to the pension funds," Mr. Lentol said. "If fraudulent activity jeopardizes these funds, then we must make sure that there is a reasonable remedy. Giving the Attorney General that power on behalf of the funds does just that."
Several labor leaders released statements praising the Institutional Investor Recovery Act. CSEA President Danny Donohue, who's currently campaigning to lead AFSCME, hoped the legislation would help people see the growing cost of the retirement fund came from "companies that scammed New York taxpayers" rather than "overly generous benefits."
"The public needs to remember that much of the current pressure on the retirement fund is not a result of overly generous benefits, it's a result of the Wall Street collapse in 2008 and the greedy schemes that led to it," Mr. Donohue said. "Companies that scammed New York taxpayers should be held accountable."
United Federation of Teachers President Michael Mulgrew said the act would stop workers from paying for mistakes made by Wall Street.
"Wall Street gambled with other peoples' money and lost. If I were a Wall Street billionaire, I'd love the idea of having somebody else pay for my mistakes," Mr. Mulgrew said. "We need Martin Act reform to help make sure that the firms who engaged in reckless behavior pay for their mistakes, rather than dumping that burden on the workers."