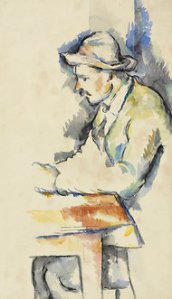 One of the studies for Paul Cézanne's "Card Players" paintings, a watercolor, recently surfaced in the home of a Dallas collector and heads to Christie's in New York where it will go up for auction on May 1, Carol Vogel of The New York Times reports. The watercolor is estimated to sell for $15 million to $20 million. The news comes after reports that the Qatari royal family snapped up a "Card Players" painting for $250 million. Ms. Vogel is a bit circumspect about that belief, floating the possibility it may have been purchased by a Greek or a Russian collector.
The "Card Players" series, which depicts farm workers sitting around a table smoking and playing cards, dates from 1892-96, which places it within the same time frame as Cezanne's "Bathers" series.
Dr. Heinz F. Eichenwald, a leading researcher on pediatric infectious diseases and a prominent Dallas collector who died in September, owned the watercolor that will be up for auction at Christie's. He inherited the work from his father, Ernst, who experts at Christie's believe bought it in 1930 from a Berlin gallery. Fleeing Germany in 1936, the Eichenwald family took "A Card Player" and other artworks to New York. Linda, Heinz Eichenwald's widow, Linda, is selling the work.