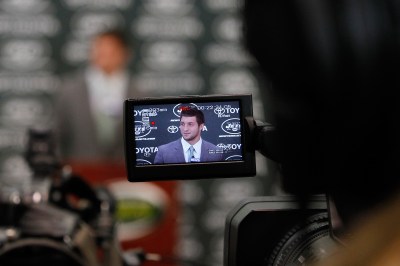 What's the saying? March goes in like a lion, out like a lamb? Whoever coined that turn of phrase must have been talking about frozen mutton: we'll be leaving March in some of the coldest weather we've felt all year.
Still, we can almost taste summer on our tongue—or is that the waft of "Linsanity" still lingering over the West Coast, where several medical marijuana dispensaries have been forced to rebrand their newest strain of weed named after the Knicks' point guard? (People in California care about the Knicks?)
Of course, Jeremy Lin (despite his recent lins—er, wins—oh, forget it) might be last week's news in the face of the Jets' new acquisition, Tim Tebow. We're not sure how New Yorkers will react to having a religious moment every time he feels the spirit, but let's be honest: for the Jets, Mr. Tebow is a gift from heaven. General manager Mike Tannenbaum would have designed the "t" to look like Christ on the cross if that's what it took to get the 250-pound devotee over to Manhattan. Well, to New Jersey. Meanwhile, Mayor Bloomberg and Police Commissioner Ray Kelly may be praying for this cold weather to continue. At least it could keep Occupy Wall Street demonstrators from marching around the city. Zuccotti Park, Union Square, 42nd Street … the protesters have shown up in full-force in the past two weeks, newly galvanized by the tragic death of Trayvon Martin, the Florida teen who was shot for the preposterous reason that he was purportedly looking suspicious by virtue of wearing a hoodie. (If that's all it takes, look out, Mark Zuckerberg.) America is outraged, and if there's one good thing to take away from this (no, it's not popularity and unbiquitousness of hoodies, Mr. Charney), it's that the issue of racial profiling is re-emerging at the forefront of American politics. Six Democratic senators from New York showed up to work wearing hoodies in protest.
While the Republican majority have yet to comment on this act, at least we know where Geraldo Rivera stands—in the dummy corner, after reinforcing on Fox News the idiotic notion that Trayvon Martin was killed because the way he was dressed legitimately provoked suspicion. Maybe someone should tell Mr. Rivera that his mustache is just asking for trouble. Eventually, someone is going to confuse him for a creepy, overly touchy bad uncle. Really, what did he expect, running around in public with that 'stash? The whole thing just leaves us, well, cold.