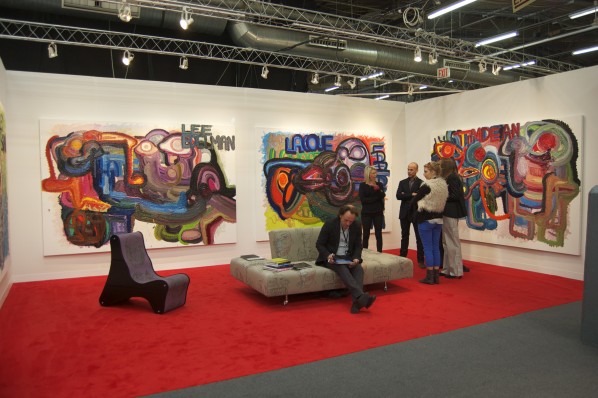 When Gallerist walked through Pier 94 on Sunday night to see the Armory Show's newly redesigned layout, just about every rectangular booth appeared similarly sterile: white walls, grey ground, no art. One booth, though, had a different look: its floor was covered with loud red carpeting.
For the five days of the Armory Show that booth belongs to Galerie Guido W. Baudach of Berlin, Greene Naftali of New York and Galerie Krinzinger of Vienna, and is home to work by the indefatigable Norwegian artist Bjarne Melgaard, whom we profiled late last year. At the time, he was finishing work on a show he was curating at Maccarone that included his own work.
"Some of these paintings were actually on view at Maccarone, in the windows," Greene Naftali's Alex Tuttle explained this afternoon, during the fair's VIP opening hours. Sure enough, one of the works, the one with "Lee Edelman" written in one corner, is visible in a photo we ran of the exterior of that wild, sprawling show. (Yes, that is a copy of a William N. Copley painting you see in the corner of that photo; yes, its white figures have been replaced with black figures. It's by Big Fat Black Cock, Inc.) Though the paintings in the booth are more than a few months old, they still have the unmistakable and very pleasant scent of fresh oil. Mr. Melgaard uses a lot of it. (As for the carpeting, though Mr. Melgaard has used similarly bright flooring in recent shows at Baudach and at Gallery K in Oslo, this time it was his gallerists' idea.)
The paintings came out of the project that Mr. Melgaard did at the Venice Biennale last year, Ms. Tuttle explained. "And these are all cultural theorists," she said, pointing to the text on the paintings. British philosopher Tim Dean is in one, American literary theorist Leo Bersani in another. "He also did a great video with Leo Bersani that was set up in Venice—a Charlie Rose-type interview in suits." The paintings are priced at $65,000 a piece. Only 90 minutes into the VIP festivities, one had already sold.
The furniture is also Mr. Melgaard's handiwork. They're Frederick J. Kiesler designs that he has covered with fabric featuring his drawings and a few of his scrawls. The phrase "snuff cube" is visible on the sofa.