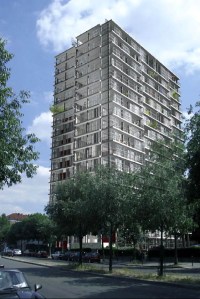 There has been quite a big debate of late—sparked in part by us—about Michael Kimmelman's near-refusal to write about new buildings, for a good long time the stock-and-trade of those in his new-found profession. With rare exceptions, almost every column the Times architecture critic has penned has been about the streets or the parks or even the trees in the parks.
That changed when, after a six-week hiatus, Mr. Kimmelman, in a mix of personal reverie and polemicism, singlehandedly dismantled NYU's proposed expansion plans in the Village. Now, but a few days later, he returns with another building review, of an entirely different sort, on the far-side of the Atlantic. The initial, cynical instinct is for the eyes to roll at another review of another housing project (that makes three in six months). But the ultimate reaction, as it has been after finishing a Kimmelman column these past few months, is to cheer.
We find ourselves "on the farthest edge of the 17th arrondissement, a mixed district with persistent pockets of poverty," at the site of a not-exactly new low-income apartment building.
Designed by Raymond Lopez and opened in 1961, the 16-story prefabricated concrete tower had already undergone an ugly, claustrophobic update during the 1980s. Various competitors proposed leaving the shell basically intact but gutting the interior. Ms. Lacaton, Mr. Vassal and Mr. Druot won the competition with a novel approach.

They would work from the inside out to improve light and space, giving the tower a fresh, larger skin by creating a shell to envelop the building. This would extend the apartment floor slabs to add winter gardens, or solariums, and balconies that would bring in abundant light and increase the size of all 96 apartments.

The proposal included a new lobby; new elevators, kitchens and bathrooms; and many new floor plans. It promised, unlike the other proposals, that the tenants wouldn't need to move out for months on end, or years. This last part was crucial, because people removed from their homes for long stretches tend not to want to return. Ms. Lacaton, Mr. Vassal and Mr. Druot would displace them only for relatively short stints, and the retrofit would take less than two years.

The new winter gardens and balconies would be added using prefabricated modules erected like scaffolding around the outside. Punching through the old facade to connect these modules to the apartments would take only one day per apartment. Residents who left for work in the morning would return in the evening to find an entirely new, much larger home, with floor-to-ceiling glass doors opening onto glassed-in winter gardens that gave way to balconies with panoramas of the distant Eiffel Tower and La Défense.
He goes on and on, capturing the ingenious beauty and functionality of this project, well off the beaten path. Sure, it was featured in a MoMA show two years ago, and the project was created through a city-led competition, not unlike the one that created the first project Mr. Kimmelman ever visited, Via Verde in the Bronx. But the fact remains, up until now, there has not been a single starchitect review. Not the next phase of the High Line, not Frank Gehry's new Signature Theater Company, not some Jean Nouvel or Zaha Hadid convection in some other World City besides ours. Still, he uncovers gorgeous buildings with riveting stories behind them.
The Observer has a theory that this would not have been possible were it not for the Internet, where Mr. Kimmelman has found himself to be very adept. All it takes is the right RSS feed, the right Twitter following (he follows 74, and 2.996 return the favor) to turn up these unexpected projects.
It also helps reverse what we considered a disturbing trend in the field of architecture criticism. Mr. Kimmelman's predecessors often came in for criticism themselve for being too obsessed with the new, the flashy, the famous. But who can blame them? We blame the Internet, and for proof, look no further than Google analytics. Few stories will goose a site's traffic, ours included, more than exclusive renderings of a new project everyone is holding their breath to see—at least until every other blog rips them off and the advantage is lost.
And yet there is still a great desire for at least a little of this. The Observer was speaking recently with a prominent New York architect who complained that what Mr. Kimmelman was writing about is great, but it is ignoring a huge swath of the profession. "His writing on social issues is great," the architect said, "but that still doesn't mean he can't write about buildings as beautiful aesthetic objects."
Which brings us back to this housing project on the Paris fringe. He calls it "a new landmark for the Paris skyline," a daring declaration that puts it right up there with the Eiffel Tower and Arch de Triomphe. Yet Mr. Kimmelman's conclusions often seem to be dour ones. Here, as with his review of Penn South—who reviews a decades-old housing complex in Chelsea?—as with so many other things, he dwells on "the limits of architecture." He would swear he has used the term more than once.
According to his Twitter feed, Mr. Kimmelman is now in Bogota, Colombia. The city has become a hot bed for the sort of aggressive urbanism he has taken to celebrating. Hopefully he will not find the trip limiting. Hopefully he comes back with a building or two to write about, too.