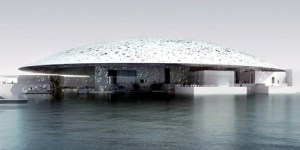 After a number of delays reportedly related to the worldwide economic crisis and its own fiscal health, Abu Dhabi's Tourism Development and Investment Company is moving forward with plans to build a branch of Paris's Louvre on Saadiyat Island in the emirate, the UAE's The National paper reports.
The TDIC has asked contractors to file applications to complete the ambitious building project, which is now years behind its original schedule. The Khaleej Times has a nice blurb about what the Jean Nouvel-designed project will look like when it's finished:
[T]he 24,000-square metre Louvre Abu Dhabi is conceived as a complex of pavilions, plazas, alleyways and canals, evoking the image of a city floating on the sea.
The National notes that the timetable for the various projects on Saadiyat Island going forward calls for the Zayed National Museum to open in 2016, and the Guggenheim to open in 2017.