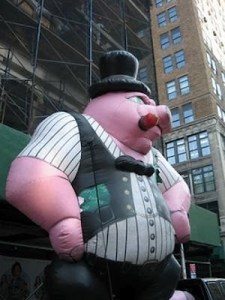 Legislators are returning to work at the Capitol in Albany after four days out of session and, on their way back, they'll be greeted by a "giant inflatable Wall Street pig" named "1%." AFSCME, the American Federation of State, County and Municipal Employees, announced their intention to stage the porcine protest against Governor Andrew Cuomo's pension reform proposal in a statement sent out yesterday.
"'1%,' a giant cigar-chomping Wall Street pig will be making his debut and welcoming politicians back to Albany. The pig, "1%," is named after the greedy Wall Street special interests and large corporations in the one percent that willingly distort the facts, and outright lie in order to promote Tier 6— Governor Cuomo's 40% pension-cutting scheme," the statement said.
The pig will be erected in front of the Capitol building at 1 p.m. today, it's part of a large push by the unions to fight the governor's pension reform plan. AFL CIO has reportedly spent seven figure sum on ads criticizing the proposal. AFSCME's statement on the pension protest said the governor's plan would slash benefits for public workers while preserving loopholes and "taxpayer giveaways" for corporations.
"Under the Governor's Tier 6 scheme, the retirement security and pensions of first responders, law enforcement personnel, teaching assistants, nurses, and other public service workers is slashed by 40% while the same Wall Street firms that crashed the economy in the first place will be rewarded with billions in new administrative fees," the statement said. "This is on top of the billions in taxpayer giveaways, offshore tax shelters and other corporate loopholes that Wall Street insiders and other large corporations already receive, which the Governor's Tier 6 plan protects."
In his repeated defenses of his plan, Governor Cuomo has said it would only affect future hires and not existing workers. The governor has also said the state simply cannot afford to continue funding pensions at existing levels. Governor Cuomo's plan would raise the retirement age for public workers and offer an option similar to a 401(k) to new workers. The Republican-controlled State Senate has included the governor's proposal in their budget, but the Democratic-controlled Assembly has not.
AFSCME's statement also referenced the purportedly $2.5 million pro-pension reform ad campaign launched by the Committee to Save New York, a lobbying group created by business leaders who back Governor Cuomo. The union statement described the committee as a "shady Wall Street group."