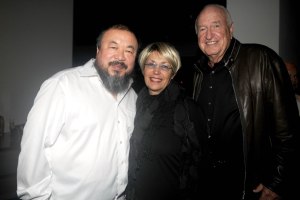 For a brief stretch yesterday, dissident Chinese artist Ai Weiwei, who has been closely monitored by government authorities since his arrest on accusations of tax fraud last year, thought he had gained a tiny bit more freedom, successfully signing up for an account on a popular Chinese microblogging service called Sina, according to Reuters.
Mr. Ai posted a test message to the site, and more than 10,000 people signed up to follow him (the program works like Twitter). And then, after two hours, his account was deleted. He believes censors in the Chinese government, which has prohibited him from leaving the country and speaking to press, is responsible.
The artist told the wire service: "The controls are very strong… They (the government) are very insecure, they are not ready for any kind of change." He had apparently attempted to sign up for a Sina account before but was rejected. It's not clear why he was able to join, albeit momentarily, this time.
Reuters notes that one user apparently commented, on seeing Mr. Ai on the service, "The moment has come. The skies have changed in China." Apparently not.
Mr. Ai can still be found on Twitter, where he posts the occasional political barb. A group of volunteers translates these periodic messages into English on a separate blog. On Sunday, reacting to a tweet that noted his name was searchable on Sina (it had previously been restricted), even after the deletion of his microblog, Mr. Ai quipped, "Mhm, fainting."