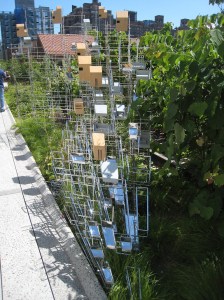 The International Association of Art Critics' United States chapter announced yesterday the 24 winners of its 2011 awards. The New York Times first reported the news. Voted on by the 400 members of the organization, the citations are made for first and second place in 12 different categories, with three categories specially addressing New York, which were decided as follows:
Best Show in a Commercial Gallery in New York
1. Christian Marclay, "The Clock," at Paula Cooper Gallery
Producer: Paula Cooper Gallery
2. "Picasso and Marie-Thérèse: L'Amour Fou," Gagosian Gallery
Curators: John Richardson and Diana Widmaier Picasso
Best Monographic Museum Show in New York
1. "Paul Thek: Diver, a Retrospective," at the Whitney
Curators: Elisabeth Sussman and Lynn Zelevansky
2. "Glenn Ligon: AMERICA," at the Whitney
Curator: Scott Rothkopf
Best Thematic Museum Show in New York
1. "On Line: Drawing Through the Twentieth Century," at MoMA
Curators: Connie Butler and Catherine de Zegher
2. "Chaos and Classicism: Art in France, Italy, and Germany, 1918-1936," at the Guggenheim
Curators: Kenneth E. Silver, assisted   by Helen Hsu, and Vivien Greene as curatorial advisor
New York dominated the category for best project in a public space, with Sarah Sze's High Line installation (curated by Lauren Ross) and Ai Weiwei's Circle of Animals project at the Pulitzer Fountain (organized by Larry Warsh/AW Asia) taking first and second place, respectively.
The awards will be presented at Asia Society, on the Upper East Side, on Monday, April 2. The full list is available on AICA-USA's website.