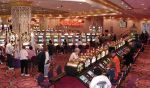 As the Legislature debates the sudden onslaught of deals and compromises tonight, Governor Andrew Cuomo sent out a press release touting an agreement with the State Assembly and Senate to amend to the New York State Constitution to allow some amount of casino gambling. The deal would provide for a maximum number of seven additional casinos in the state.
"By taking these important first steps to legalize casinos we are finally confronting the reality that while New York is already in the gaming business, we need a real plan to regulate and capitalize on the industry," Governor Cuomo said in the statement.
"This is a process that will ultimately put thousands of New Yorkers to work, drive our economy, and help keep billions of dollars spent by New Yorkers on gaming in the state," he added.
Assembly Speaker Shelly Sever echoed Mr. Cuomo's arguments, and pointed towards the casinos in neighboring states to justify the measure.
"Under the current system, gaming revenue is pouring out of the state as New Yorkers spend their entertainment dollars in neighboring states," he said. "We need the ability to keep that revenue here in New York. Today's vote represents the first passage of this amendment and we will work on accompanying legislation to further define this issue."
Mr. Cuomo has already announced a deal over a new DNA data bank. Further deals over pension reform and redistricting are expected as part of this of this process.
Constitutional amendments in New York have to be approved by two separate legislative sessions and then a vote by the public, so the agreement is not guaranteed and would take place in 2014 at the soonest.