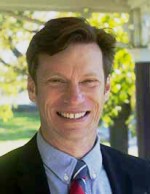 Wappingers Falls Mayor Matt Alexander announced today that they received the endorsement of two local Democratic committees in Westchester County, which happens to be the home county of Mr. Alexander's closest competitor for the Democratic nomination for a Congressional seat in the Hudson Valley.
"I am humbled to have the solid backing of yet another Democratic Committee in Westchester and look forward to working with them to make Nan Hayworth a one term Congresswoman," said Mr. Alexander.  "Let's keep the momentum going."
The North Salem Democratic Committee endorsed Mr.  Alexander this week for Congress. The Lewisboro committee endorsed him last week, as did his home county's Democratic organization in Dutchess.
The winner of the race will take on incumbent Republican Nan Hayworth.
Mr. Alexander has made it a habit of pointing out the geography of the district. After the Congressional lines were redrawn, Mr. Becker found himself living outside the district.
"Matt Alexander has been the mayor of Wappingers Falls in Dutchess County for 5 years. A graduate of Cornwall High School, he has lived within the new boundaries of the 18th District for 31 years, in Dutchess and Orange Counties," his release states.  "Of his Primary Election opponents, two live in Westchester County outside the district, one lives outside the district in New York City, and one is the mayor of the gated village of Tuxedo Park. "