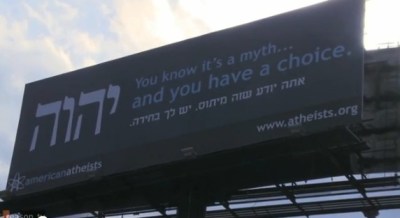 While on the topic of just really respectful advertising today, here's American Atheists telling Hasidic Jews in Williamsburg and Muslims in Patterson, New Jersey, that they know their religion is a lie.
"You know it's a myth," reads the signs, which cost $30,000 each to post in heavily Muslim-and-Hasidic areas. (They read in Arabic and Hebrew respectively.) "And you have a choice."

Tru.TV went around trying to gauge the reactions of the Williamsburg community, who pretty much refused to respond to the shock tactic.

This is part of a new campaign by the American Atheists, spearheaded by the group's president, David Silverman. The myth billboard was originally turned down in Williamsburg but has somehow found a way back into the neighborhood.