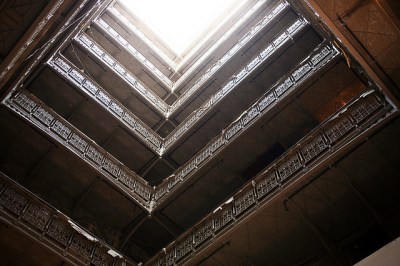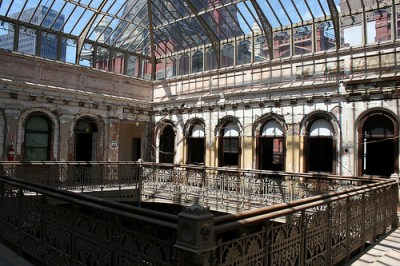 After Andre Balasz, the hotelier behind the edgy Standard, backed out of the deal for the Temple Court at 5 Beekham Street, the building will be developed by not one but two hot-shot hoteliers: A joint venture between GB Lodging LLC, which has worked on the Ace New York, and Commune Hotels & Resorts, the parent company of Thompson chain of hotels.
Last November, Allen Gross, president of GFI Capital Resources Group—an investor in the Ace Hotels in New York and Palm Springs—and Chartres Lodging Group partner, Bruce Blum, created a private equity hotel investment firm: GB Lodging LLC. The firm remains an affiliate of GFI Capital.
In light of recent contract speculation, the deal was finalized and announced today:
GB Lodging LLC, the New York hotel investment, development and asset management firm and affiliate of GFI Capital has purchased the iconic 5 Beekman Street.  The historic property is located in an emerging neighborhood in FiDi across from City Hall Park and Gehry NY, one block from the Brooklyn Bridge, three blocks from the new Freedom Tower and two blocks from the new Fulton Street Metro Station, to be completed in 2013 and 2014 respectively.
The historic building will be named a Thompson hotel as it is operated by Commune, and will consist of 297 luxury boutique rooms and 90 residences. The exact specifications are unknown, as the project is at the very early stages of development, but it is expected to be completed in 2014.
5 Beekman Street, built in 1883, has been unoccupied for several years but will receive a much-needed restoration. "We will pay homage to the history and grandeur of this iconic building and combine classic and modern design to create a vibrant community that will further enliven and rejuvenate the Financial District and downtown Manhattan," Jason Pomeranc, Co-Chairman Commune Hotels & Resorts, noted.
The long-shuttered building went viral in November 2010 after Scouting New York got inside. Coincidentally (or shrewdly) the old owners, the mysterious Chetrit Group, put it on the market only a few months later.
mewing@observer.com