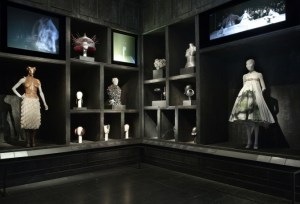 The Observer has had a look at The Art Newspaper's annual museum attendance survey, which comes out in the monthly paper's April issue, and is available online now. What the survey, which lists attendance figures for 2011, tells us about museums in New York, and the United States, is compelling. Brazil's and Japan's audiences may in general be more avid museumgoers than those in New York, or Europe for that matter, but Alexander McQueen was a smash hit at the Metropolitan Museum of Art, the Seattle Art Museum was a surprise winner with a Picasso loan show, and the Los Angeles County Museum of Art (LACMA) is on the rise. Let's take a closer look.
Among U.S. museums, the Met soared this year. Its overall attendance of 6 million (over last year's 5.2 million) put it in the number-two slot worldwide, behind the Louvre, which saw 8.9 million visitors. (The only other U.S. museum on the top-10 list for overall visitors is the National Gallery of Art in Washington, D.C., with 4.4 million visitors.) The Met's figure was of course boosted by its blockbuster Alexander McQueen exhibition, which closed in August after being visited by a total of 661,509 people, a daily average of 8,025.
That made the McQueen show the fourth-most-attended exhibition worldwide in 2011. Coming in first is "The Magical World of Escher" at the Centro Cultural Banco do Brasil, in Rio de Janiero (CCBB), which saw a daily average of 9,677 visitors. In second place is "Kukai's World: The Arts of Esoteric Buddhism" at the Tokyo National Museum, with a daily average of 9,108. And Taipei's National Palace Museum took third place, with "Landscape Reunited," which saw a daily average of 8,828.
Brazil's growing interest in contemporary art is one of the major stories to emerge from this year's survey, The Art Newspaper's deputy editor, Javier Pes, told The Observer in a telephone interview. Not only did the Escher show come in first worldwide but that same museum, the CCBB, in a former bank building, had three other exhibitions in the top 10. As the paper points out, the exhibitions at CCBB are free, giving it a leg up in attendance. Still, the results are remarkable, and are likely attributable, Mr. Pes said, to the growing interest in culture of a burgeoning middle class in Brazil.
Perhaps just as remarkable is the fact that, for the first time in many years, a Rio museum, the CCBB, has bumped New York's MoMA out of the top three in the contemporary art category. MoMA's "Carlito Carvalhosa: Sum of Days" came in at number five, with a daily average of 5,615. In the top slot for contemporary art worldwide is the CCBB's "Mariko Mori: Oneness," and another CCBB show, "Laurie Anderson," came in at number three, with a 6,934 daily average. In second place is "Monumenta: Anish Kapoor" at Paris's Grand Palais, with a daily average of 6,967.
In terms of the top 10 most-attended museum exhibitions in New York in 2011, McQueen of course easily nabbed first place, and the following eight slots are occupied, not surprisingly, by exhibitions at the Museum of Modern Art: "Abstract Expressionist New York" (5,655 daily average), "Carlito Carvalhosa: Sum of Days" (5,615), "Talk to Me" (4,942), "German Expressionism: The Graphic Impulse" (4,678), "Francis Alys: a Story of Deception" (4,593), "Picasso: Guitars 1912-14" (4,360), "Andy Warhol: Motion Pictures" (4,232), "On Line: Drawing through the 20th Century" (4,103). In 10th place is the Guggenheim's "Lee Ufan: Marking Infinity" (3,937).
Despite the robust performance of its individual shows, MoMA saw a slight dip in its overall attendance, a break from its upswing over recent years. In 2009, attendance totaled 2.7 million. But 2011, at 2.8 million, was down from 2010, which saw 3.1 million. Helping the museum that year was its blockbuster show of performance artist Marina Abramovic, which had visitors lined up around the block for a chance to sit across from the artist during her retrospective.
MoMA's slight decrease, Mr. Pes pointed out, mirrors that of London's premier modern and contemporary art venue, Tate Modern. Although Ai Weiwei's installation of millions of sunflower seeds in Tate's vast turbine hall (which has no admission charge) nailed the number-one slot for a single-artist show anywhere in the world in 2011, with around 1.2 million visitors, overall Tate Modern's attendance was 4.8 million, down from 2010.
The big surprise on the West Coast is Seattle. In past surveys, Mr. Pes said, the West Coast exhibition that comes in behind ones at a New York institution has invariably been in San Francisco, often at the San Francisco Museum of Modern Art (SFMOMA). But in 2011, the Seattle Art Museum, which has been financially troubled in recent years, achieved that with the 17th-most-visited exhibition in the world, an ambitious loan show, "Masterpieces from the Musée Picasso," with a daily average of 5,476.
In fact, a San Francisco institution, the De Young, also took the traveling "Masterpieces from the Picasso" exhibition, but there, interestingly, it didn't do as well as it did in Seattle, getting a little over half the visitors, an average of 3,141 a day.
On the West Coast, Los Angeles has generally underperformed compared to San Francisco, but that may be changing. The Los Angeles County Museum of Art (LACMA), the paper reports, has seen attendance rise in recent years, due in part to its Resnick exhibition pavilion, which opened in September of 2010. In 2011, its numbers hit 1.2 million. "This is the first time it has broken the one million mark," The Art Newspaper reports. "That roughly doubles LACMA's attendance five years ago." Still, to put things in perspective, the 2009 exhibition of film director Tim Burton was a true blockbuster at New York's MoMA, where it saw an average of 5,200 visitors a day. At LACMA, apparently the film industry didn't quite turn out in droves for one of its own; the same exhibition averaged only 2,714 visitors per day at LACMA in 2011.
And yet, the Burton show had the highest attendance for any show at a Los Angeles museum. One might have expected "Art in the Streets," the much-hyped exhibition at the Los Angeles Museum of Contemporary Art (LAMoCA), curated by the museum's recently appointed director Jeffrey Deitch, to come in second, but it turns out that classic modern art edged it out. The exhibition "David Smith: Cubes and Anarchy," at LACMA, came in at number two, with 2,565 average daily visitors.
"Art in the Streets," in fact, came in third for Los Angeles, with a daily average of 2,495. In recent years, all eyes have been on LAMoCA to see how well it will perform after being saved from a financial debacle by a matching grant from trustee Eli Broad at the end of 2008. (In a high-profile move, New York dealer Jeffrey Deitch became the museum's director in June, 2010.) "Art in the Streets" was, in fact, a hit for the museum–which may increase the Brooklyn Museum's regrets that they cancelled the show's tour. Its daily average was good enough to make it number 102 on the worldwide list, right behind the main exhibition at the Venice Biennale. MoCA's next-best-attended show in recent years was "©Murakami," the midcareer survey of the Japanese artist's work in 2008, which had an average of 1,970 a day. Though it declined to release attendance figures to The Art Newspaper in 2009 and 2010, the museum reported 402,000 visitors in 2011, almost on par with the 413,000 it saw in 2007, before dropping to just 213,000 in 2008.
Among East Coast museums outside New York, the MFA Boston saw numbers jump from 911,000 to 1.41 million from 2010 to 2011 after a sizable expansion. It climbed 23 spaces on The Art Newspaper's list, to finish at number 31 in the world in terms of total attendance.
In terms of how other U.S. museums performed in the top-50 rankings of overall attendance figures for the year, the Art Institute of Chicago came in one place above MFA Boston, at number 30, with attendance of 1.4 million. San Francisco's De Young Museum is at 35, with 1.3 million. LACMA is at number 39, with 1.2 million, the Getty Center, in Los Angeles, is at 44, New York's Guggenheim Museum comes in at 46 and the Smithsonian American Art Museum, in Washington, D.C., is at 47.