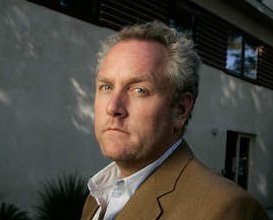 Online publisher and conservative media activist Andrew Breitbart died shortly after midnight at Ronald Reagan UCLA Medical Center in Los Angeles, the Los Angeles Times has confirmed. He passed "unexpectedly from natural causes," according to one of his websites, BigJournalism.com. He was 43.
Breitbart was born and raised in the upscale West side of Los Angeles. He often described his upbringing in the liberal enclave as having defined his desire to become a conservative media crusader. A Matt Drudge protege, Breitbart's websites–Breitbart.com, BigGovernment.com and BigJournalism.com–were a home for sting videos and other materials that embarrassed government employees or officials, including the deceptively edited video of a Department of Agriculture official being racist, James O'Keefe's ACORN video and the sexually explicit photographs obtained from former Representative Anthony Weiner's Twitter account.
Minutes before the June press conference where Mr. Weiner rescinded his earlier claim that his Twitter account had been hacked and tearfully admitted to sending the photographs, Breitbart surprised the press corps by taking the podium for fifteen minutes.
"If he's going to come up here and take some form of culpability here, he was party to a campaign for 72 hours that weekend to allow the liberal blogosphere, including the Daily Kos, to accuse me of being the hacker," Breitbart told reporters. "Are there any reprecussions for journalism on the Left, when they falsely claim that I'm the hacker?"
He went on, "Markos Moulitsas of the Daily Kos will not apologize.  In fact he admitted that he named the girls the underage girls because they had the wrong politics. At what point does Meet the Press say 'We're no longer going to allow Markos Moulitsas on the air'? Why is there no accountability for an entire weekend of false reporting that was based upon what I believe was Congressman Weiner's strategy to blame the messenger?"
Breitbart was currently working on a film about the Occupy Wall Street movement. He saw the protests as a "circus" populated by unsanitary activists and sponsored by unions and other left wing groups eager to create the impression of a grassroots movement. Breitbart, who was always eager to stir up controversy and provoke progressives, had a memorable confrontation where he shouted at occupiers and admonished them to "Stop raping people!" outside the Conservative Political Action Conference in Washington, D.C. earlier this month. Ever the media provocateur, Breitbart  excitedly talked of his plan to butt heads with the CPAC occupiers for days leading up to their exchange and ensured there were cameras on hand to witness the scene.
The author of Righteous Indignation is survived by his wife, Susannah Bean, and their four children.