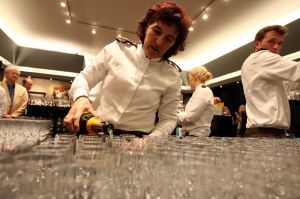 With the possible exception of TEFAF, the luxurious art fair that takes place annually in Maastricht, the Netherlands (oysters are shucked and champagne is swilled during the opening reception), food at art fairs tends to be unexciting at best, and abysmal at worst. (Life is hard for art lovers.)
Armory Show organizers emphasize that they are working to change that next week, offering up eight different food areas (up from three last year) with a diverse dining options, including one in which Chicago artist Theaster Gates, the fair's featured artist, will speak and interact with visitors.
For a piece called SEE, SIT, SUP, SIP, SING: Holding Court that the Armory bills as "not quite a performance," Mr. Gates will meet, greet and chat with visitors in the café on Pier 94, home to the fair's contemporary section, which has been outfited with leftoever desks from an elementary school on Chicago's South Side, where Mr. Gates does much of his work.
On the food front, expect two "pay and sit" restaurants–think of Café 2 at the Museum of Modern Art–with between 60 and 100 seats and the Katchkie food truck, which serves a "vegetable-based" menu. The catering is being done by Great Performances.
Gallerist will be previewing work that exhibitors have in their booths next week but, for the weekend, we offer you this, a modest preview of menu items at the Armory, in order of our excitement about them, with the most delectable-sounding first:
–Flatbread topped with braised short ribs, queso fresco and pickled red onion at the two restaurants
–Grilled cheese with fontina and mozzarella and roasted sweet and hot peppers from the Katchkie truck
–Sushi bento boxes in the VIP section
–Spicy chicken empanada with tomatillo sauce from the restaurants
–Sundried tomato, mozzarella, pesto sandwich from the cafés
The Armory has promised big improvements over last year's fair. We'll see if they follow through–food included–next week.