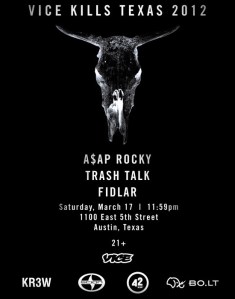 For a few weeks every year, pity poor Austin, Texas, when South by Southwest results in the tragic occupation of the town by New York City's hipster and media set. Even Jay-Z was taken aback by the way his hometown was essentially imported to the Lone Star State. Think of it as one big Friday Night Lights fetishist party, or the metropolitan intelligentsia version of Spring Break in Daytona Beach. As they network among the endless river of new media panels, music industry showcases, and food trucks, occasionally something interesting happens.
Like when a Harlem rap crew brought forth absolute chaos upon SxSW's denizens last night at a VICE party. Naturally.
Last night's now aptly-named "VICE Kills Texas" party featured a performance by Harlem (seven-figure RCA signee) rapper A$AP Rocky and the A$AP crew. A rowdy crowd already relied up by hardcore band Trash Talk started throwing things during A$AP's performance. A$AP tried to calm them down, to little effect. Spinner reports:
Rocky valiantly tried to defuse the situation and seemed on the verge of pulling it off — until someone threw another beer can at the rapper. At this point, Rocky warned against throwing anything onstage other than water or there would be consequences. When that was followed by more stuff being thrown, Rocky and his crew leapt into the crowd, fists flying. Most of the audience scrambled to get out of the way, but several men mixed it up with the rappers as a full-blown brawl ensued for several minutes. At least one audience person had a gash one his head from the fight. Eventually, security managed to clear the room and the police arrived to shut the party down.
A more subdued report from Done Waiting:
It was intense. But over quickly. A culperit may have got snuffed on stage. Not sure. […] My point is it was already a fun night. And aside from a couple eye jammies no one got hurt.
Video of the encounter:
Note that A$AP Rocky's recent headlining show in New York City caused no such issues! There's just something about South by Southwest that makes one want to "wild out," as it were. Maybe the panopticon-like effect South By Southwest can have on a New Yorker with their wits about them. Just a guess.
fkamer@observer.com | @weareyourfek