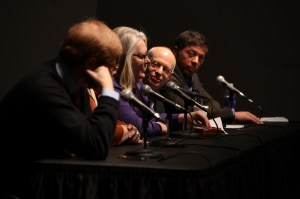 Asked to define the state of the art world, and the culture at large, during a panel discussion at the Armory Show on Saturday afternoon, the art advisor Todd Levin looked pained. He took off his glasses and thought for a few moments as he rubbed his eyes.
"I feel very much in a certain way what Mahler must have felt in 1908, embarking on the last movement of the Ninth Symphony," Mr. Levin said, during his answer. "A feeling of an end of a number of things, not only the end of tonality in the music he was writing, but the end of nature, an end to, sort of, societal manners. They were reaching a breaking point and something was going to happen." Amid the brisk business reportedly taking place in the fair next door, it was a sobering comment.
The panel was titled "What is art worth NOW?" and moderated by journalist Alexandra Peers, a former Observer editor who recently broke the news that the Qatari royal family snapped up a Cézanne for $250 million. Despite that banner number, the panelists agreed, all is not well in the art market.
"What is taking place now," the appraiser Victor Weiner said, "is, for lack of a better word, let's say a schizophrenic manifestation of the art market." Contemporary art auctions are thriving, but, he said, "We have basically a lot of the market, across the board… not doing terribly well. It's a very strange moment." (An aside: Ms. Peers noted that Mr. Weiner had the esteemed honor of weighing in on the worth of Steve Wynn's $139 million Picasso after he put his elbow through it a few years back, for the insurance company Lloyd's of London.)
Insurance executive Dorit Straus, of Chubb Group of Insurance Companies, concurred. "There are large segments of the market, where [a collector] bought something in the '90s and it's not keeping its value, and in fact it's a big struggle to convince people that they should lower values [in their insurance papers]."
The segment of the art market devoted to design has been particularly hard hit, the art collector and Observer columnist Adam Lindemann noted. "Design's a disaster," he said. "It's kind of like a wipeout." He shifted to a positive note: "Now is the time to buy."
The design market, Mr. Lindemann argued, is suffering from a glut of material and a lack of strong dealers, the types that can keep prices up by defending artists at auction, as many of the world's top-flight art dealers do. (Think of David Zwirner showing up to auction to bid on an Alice Neel, whose estate he represents, for instance.)
"Any collectible, whether it's baseball cards or vintage Ferraris or any kind of art is ultimately resting on the shoulders of the dealer network and the strength of those dealers who are supporting that market," Mr. Lindemann said. "There's two ways they support it. One, they're well capitalized, which is the best way, or two, they're very charming and great salespeople. You need a combination of those two things." Sounds a bit like Larry Gagosian.
While noting that some market sectors are "dry," Mr. Lindemann was perhaps the panelist most optimistic about the art market's future over the medium to long term. "I really think the art market overall is going to continue to do better than anyone expects," he said. Interest in contemporary art is spreading, he pointed out, and new collectors are popping up all around the world. He said, "Damien Hirst might be a big name in New York City or London, but there are many parts of the world that have not yet heard of him." Whether they will want to own his work when they do hear about him is, of course, an open question.
Ms. Peers asked if the art fetching record numbers today will land in the art history books. "Who cares?" Mr. Lindemann answered saucily. "We'll all be dead."