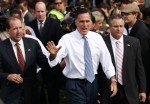 Mr. Romney suffered a 1-2 punch of losses last night, coming in a close third place in the Alabama and Mississippi primaries. But those defeats were brushed off at a pair of fundraisers for Mr.Romney at the Waldorf-Astoria, according to several sources who attended them.
"The mood was great," said John Catsimatidis, the supermarket magnate who hosted the afternoon fundraiser.  "The media doesnt always reflect reality. More delegates were won last night by Romney voters than by any of the rest of them. When the media says its a big win for Santorum, they are not telling the truth.It's basic math. Do you own homework and add the numbers. The truth is the truth." 
Still, according to another attendee, the fact that Mr. Romney looks unlikely to win enough delegates was a consistant worry expressed by those in attendance.
"Everyone knows that Santorum and Gingrich can't get the nomination, but there is a concern that they can't wrap up the delegates he needs," said one person who attended the fundraisers. "No one doubts he will be the nominee, but there is a concern that this will actually be decided at the convention."
Mr. Romney made only oblique references to last night, according to those in attendance, making light of his "big night" in winning the primaries in Hawaii and American Samoa, but stuck mostly to his stump speech. According to Mr. Catsimatidis, Mr. Romney made the point that he is the likely nominee explicitly, pointing out that any one of his opponents would need 75 percent of the remaining delegates to win out before the convention.
From a purely fundraising standpoint, the events appear to be a success. One person who attended the morning fundraiser said that $1.5 million was raised at the morning fundraiser, and nearly 300 people–twice the expected number–showed up in the afternoon.
Among the boldfaces names who attended one or both of the fundraisers include top Republican money men Hank Greenberg, Woody Johnson and John Whitehead, former U.S. Senator Al D'Amato, hedge funder and Obama supporter turned Romney backer Anthony  Scaramucci, and former Massachusetts Governor William Weld.
Also spotted was business tycoon turned reality TV star Donald Trump, and it what could be a worrisome sign for the Santorum campaign, his home state of Pennsylvania's Republican chairman, Rob Gleason.