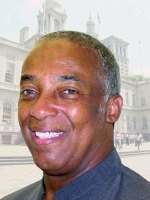 City Councilman Charles Barron has to be pretty pleased with the Congressional maps that a judge drew this morning.
The new map draws the Assembly seat of Hakeem Jeffries out of the district, removing the base of one of Mr. Barron's rivals for the seat now held by Congressman Ed Towns, and also eliminates some white gentrifying areas of the district that could have been Mr. Jeffries' strength.
In an interview, however, Mr. Barron kept up the basic line he has been repeating for months–that he is the best positioned to take on Mr. Towns.
"We are certainly ready no matter how the lines are drawn," he said. "Where they are drawn now I think I have a real good shot at winning. My whole [council] district is in the [congressional] district and it goes further into Coney Island … it has more blacks and Latinos than any other Congressional district."
Mr. Barron added, "The one that has the best ground game is the one that is going to win."
On the surface, Mr. Barron comes into the campaign at a distinct disadvantage. He lacks the money and the institutional backing that either Mr. Towns or Mr. Jeffries possess. But he has made a name for himself on the City Council, and his willingness to challenge established orthodoxies have created a following and made him something of a wildcard on the trail.
As to the question of whether or not the judge should draw the lines, or whether the task should be the Legislature's or a nonpartisan commission's, Mr. Barron was noncommittal, saying that his concern was less with the process and more with making sure "we don't lose any representation for black and Latino communities in Congress."
"We better look out and stop being so selfish and stop worrying about our personal ambition and make sure that overall that black and Latinos are increased in their power in the House of Representatives."