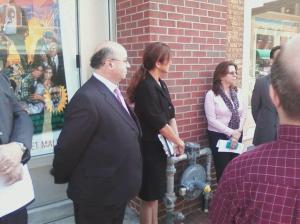 RED BANK – Sen. Jennifer Beck, (R-13), of Red Bank, and local officials of this vibrant Monmouth County municipality with a bustling downtown are fighting to prevent some uninvited guests from popping up: above-ground gas regulators.
New Jersey Natural Gas is planning to move a whopping 88 underground gas regulators above ground. In the town's compact central business district, that means the regulators, which would be about knee-length high, could be installed near many storefronts.
Officials insist that while aesthetics is one of the reasons they are opposed to moving the equipment, equally important are safety and greater transparency from the utility. Mayor Pasquale Menna and Red Bank business administrator Stanley Sickels both said today that they have received very few answers from the utility company, such as how many leaks were found, and how often inspections took place, among other issues.
Sickels said a car could potentially jump a curb and strike the regulators, or become corroded by exposure to the elements. All of them said the town has invested a lot of time and resources to make the downtown what it is today.
On this sunny day, the town was filled with foot traffic, as shoppers walked in and out of sidewalk cafes, restaurants, clothing stores and investment banks.
Beck added more details need to be provided, and called the project plans "intrusive to a downtown that has invested millions of dollars."
"I don't understand the need for secrecy on this issue," Beck said. "They should be more forthcoming."
Beck said she intends to introduce legislation Thursday requiring utilities to seek a municipality's approval before doing any capital improvement projects that would, in her words, "disrupt a municipality's public space." The legislation would require the utility to be financially responsible for any damages they caused.
Menna said, "We have to take a stand. They can't just come in here and rip up our sidewalks.
All the officials believe there are other alternatives to moving the equipment above ground, such as replacing the underground equipment enclosures to prevent gas leaks, or conducting more frequent inspections.
"If there's two, that's one thing," Beck said. "We're talking about 88."