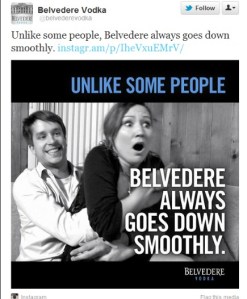 UPDATE: Scroll down for statements from Belvedere
We almost dismissed this as a case of Twitter falling for a Reddit mock-up, but no: Belvedere Vodka actually posted this ad earlier this morning on Twitter.
See? The joke is that the woman is not smoothly "going down" on her gentleman friend. Probably because it looks like he's about to rape her.

First brought to our attention an hour ago by Washington City Paper's Shani O. Hilton, who tweeted "Wheee rape jokes! RT @belvederevodka Unlike some people, Belvedere always goes down smoothly.!" and linked to a screenshot of the vodka company's Twitter page, in case they took the tweet down. (Which they have.)
How do we know the ad (which looks pretty fake, on first glance), wasn't a hoax? Shortly after Ms. Hilton began tweeting about the rape joke, the company sent out this non-apology on Twitter:

"We apologize you were offended" is such a great line. It's not really an apology, it's more of a graceless "Sorry you were too big of a baby to handle our hilarious joke." And since the offending item has been taken down, and Belvedere does not reference what tweet they were talking about, they are still refusing to take responsibility for using rape jokes to sell alcohol.
Keep it classy, Belvedere.
Update: We received an email from a spokesperson from Belvedere last night, relaying this message:
I am Jason Lundy, SVP of Global Marketing for Belvedere.

Unfortunately a Facebook &Twitter posting was made today that has offended many of our fans and followers — and indeed the people who work here at Belvedere. The post is absolutely inconsistent with our values and beliefs and in addition to removing the offensive post we are committed to making sure that something like this doesn't happen again. As an expression of our deep disappointment and regret, we are making a charitable donation to a women's support cause. We deeply apologize to our fans & followers."
When The Observer asked what charity Belvedere would be donating to, and how much money they'd be giving, we were sent this (which also appears on Belvedere's Facebook page:
" My name is Charles Gibb and I am the President of Belvedere Vodka. I would like to personally apologize for the offensive post that recently appeared on our Facebook page.

It should never have happened. I am currently investigating the matter to determine how this happened and to be sure it never does so again. The content is contrary to our values and we deeply regret this lapse.

As an expression of our regret over this matter we have made a donation to RAINN."
We notice the link to RAINN (the Rape Abuse and Incest National Network) in the email sends us to an individual's FB page, not the charity. So their money will be going to someone named Rain Chan. Congrats, Ms. Chan!
Update 2: The Facebook page of Belvedere has the correct link to the RAINN organization's Facebook page (though not in the email we received, a "copy and paste error," according to a spokesperson). While the rep from Belvedere refused to name the amount of money donated, RAINN called it a "generous donation" in a post written today:
We got a call from Belvedere Vodka's president, who was profusely apologetic about an offensive Facebook post yesterday. He stressed how much it was contrary to his values and what Belvedere stands for, and that he feels awful about it. He offered to make a generous donation to RAINN to support our work to help victims of sexual violence and educate the public. Nice to see a company that not only undoes its mistake but looks for a way to do good afterwards.