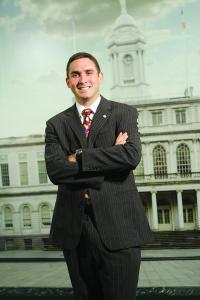 Benjamin Kallos, an attorney and consultant in the Upper East Side, formally announced his campaign for Jessica Lappin's City Council seat last night. Ms. Lappin is currently eyeing a campaign for Manhattan Borough President in 2013, potentially leaving a vacant seat behind her.
Speaking before a crowd in the back of the Off The Rails bar, Mr. Kallos particularly demonstrated some passion for government transparency in his speech. In addition to touting his efforts to get New York voting records online, he cheered the Council's recently passed Open Data Bill and presented a "Suggest Your Own Solution for a Better City" worksheet for the crowd to fill out or submit online.
He also based part of his pitch based on Council politics, where the Council's Progressive Caucus is hoping to make a stamp in the leadership race once current Council Speaker Christine Quinn is term-limited out and runs for mayor in 2013. He said he was "definitely going to join" the caucus and they "will surpass the 26 votes we need to get the most progressive policies passed in the City Council."
There's currently only one other candidate in the race, Hill Krishnan, who's an adjunct professor at New York University, but sources told The Politicker to expect more candidates to emerge.
Watch Mr. Kallos announce his campaign below: