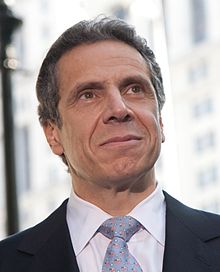 Earlier today, good government advocate Bill Samuels took the rhetorical hammer to Governor Andrew Cuomo's record over his middle-of-the-night compromise legislation on redistricting reform this week.
"I think it's a historically terrible thing for the history of our state," he began his interview with The Capitol Pressroom's Susan Arbetter.
"To the extent our governor had a chance to be a great governor, when history is written, that opportunity is gone forever," he continued. "It's only a question of whether maybe he can go down in history maybe as a mediocre governor."
Mr. Samuels didn't just hold his criticism for Mr. Cuomo. He blasted Majority Leader Dean Skelos and Assembly Speaker Shelly Silver for their part in a cynical process.
"Skelos looked at Silver and winked. Silver looked at Skelos and winked. Then the governor looked at them and they all winked," he said. "The question I ask, and I really don't know the answer, is why did Cuomo do this?"
Mr. Cuomo, on the surface, appeared to have traded away a reform position on redistricting in exchange for other legislative items passed in the middle of the same night. However, Mr. Samuels felt this grand deal was a pretext for intentionally passing a terrible redistricting map.
"I don't think this was a negotiation at all. I think that he purposely threw in the redistricting bill into the mix so in the press it got buried," he said.
Mr. Samuels went on to theorize the redistricting deal was a part of Mr. Cuomo's presidential ambitions.
"Here's the only thing I can think of … He has made the determination that he wants six years of Republican control … so he can run for President and say, 'In New York, where I had to run with a Republican State Senate and with a Democratic State Assembly, I got a lot done. Our President Obama has not been able to do that.'"