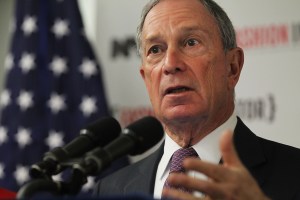 At a press conference today, Mayor Michael Bloomberg fielded questions from reporters about his recent private White House lunch with President Barack Obama. Mayor Bloomberg wouldn't divulge much about the meal or whether he's planning to endorse anyone in this year's presidential race, but he dismissed speculation he could take a Cabinet position once he leaves City Hall. Initially, Mayor Bloomberg attempted to dodge the question by handling it the same way as his infamous smooch with Lady Gaga.
"Would the answer that, 'What did I talk to Lady Gaga? I never kiss and tell' work?" Mayor Bloomberg asked, adding, "I did not kiss President Obama."
Of course the reporters in the room were not satisfied with Mayor Bloomberg's attempt not to "kiss and tell" about his lunch with the president and they forced him to elaborate.
"He was very interested in what's going on in New York City and what we need from the federal government to continue to grow and then we, you know, little bit of conversation about golf," Mayor Bloomberg said of his meal with the commander in chief. "It was a very pleasant lunch."
The New York Times reported President Obama used the meal as an opportunity to ask Mayor Bloomberg what he plans on doing in 2013 when his third term in City Hall ends. Mayor Bloomberg said he didn't get the sense the president was interested in having him take a role in the Obama administration when his mayoral career ends.
"We never talked about anything remotely in that direction nor should we," Mayor Bloomberg said.
Even if the president was interested in having Mayor Bloomberg join his administration, the mayor said he's not interested in a White House gig.
"No. There's no reason why I should be or anybody would care," Mayor Bloomberg said. "I'm going to work as hard as I can for the next six hundred and whatever number of days, it is 89 days or whatever and, you know, I'll do everything I can. If the president wanted my advice, I'm sure he wouldn't have to pick up the phone. We have lots of contacts with the White House all the time. It's a big city."
Mayor Bloomberg and President Obama aren't thought to have a particularly good relationship. In 2010, Mayor Bloomberg golfed with the president and, according to Rupert Murdoch, the mayor subsequently told him President Obama was the most "arrogant" man he'd ever met. Mayor Bloomberg's girlfriend, Diana Taylor, also criticized the president in an interview with the Observer last September.
"For somebody's who's going to come in and be the great unifier—you know, that hopey-changey stuff—it hasn't worked very well. The country is more divided now than it's ever been. And he doesn't appreciate other people and what they do," Ms. Taylor said.
President Obama gave a rather muted endorsement to Mayor Bloomberg's rival in the 2009 mayoral election, Bill Thompson. Mayor Bloomberg didn't make an endorsement in the 2008 presidential race after giving George W. Bush his backing in 2004, a year when he aggressively lobbied for New York to host the Republican National Convention. Mayor Bloomberg's economic bonafides as a billionaire businessman and the bipartisan street cred he brings to the table as an independent politician mean his potential endorsement could be quite valuable for President Obama in this year's campaign. The Politicker asked him if he intends to back any of the candidates in the coming presidential election.
"I don't even know who the candidates are going to be," Mayor Bloomberg said. "Neither party has had a convention yet, so who knows on either side of the aisle? We'll see."
Mayor Bloomberg was equally unwilling to discuss where in the White House he dined with the president and what was served.
"The security forces would not want me to divulge that I'm sure, nor what was served," he said. "But the food was fine incidentally."
The mayor's press conference was held to discuss New York's selection as the world's most competitive city in a research report by the Economist Intelligence Unit.