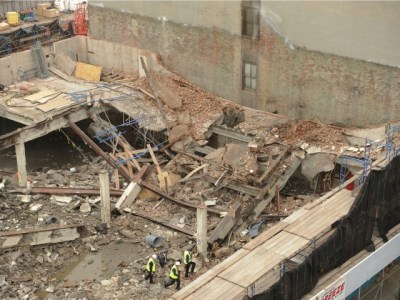 The new Columbia campus in Manhattanville has had its share of problems from community protests to eminent domain lawsuits. Now comes the worst incident yet, as a building being demolished by the university collapsed today, trapping three construction workers inside, according to DNAinfo, one of whom died shortly after being pulled from the rubble.
DNAinfo had a dramatic account of the rescue effort at 604-606 West 131st Street:
The workers were cutting a structural beam at the building's perimeter wall when steel, concrete and red brick began raining down on them, officials from the Department of Buildings and FDNY said.

Two of the workers, including the individual who died, were partially buried by rubble near the center of the building. The third person was buried near the building's northwest corner about 50 feet from them, officials said.

Emergency responders had to tunnel under the rubble to reach the third man, who was trapped for about 45 minutes and suffered head injuries.
Both DNAinfo and The Real Deal note that the building had been hit with a number of building code violations.
In a statement, Borough Presiden Scott Stringer decried the incident, though he did not call out Columbia for any wrongdoing.
I am greatly concerned by the building collapse this morning at 606 W. 131st Street that resulted in the death of one construction worker and injuries to two others during the course of demolition work.

The Department of Buildings posted a March 5 building code violation for this structure on its website, relating to a failure to safeguard all persons and property affected by demolition activities, and for demolition without a permit. There was also a complaint today about vibrations and structural stability at the site.

I am calling on DOB to immediately mount a full investigation into the cause of this tragedy. Our hearts go out to the construction workers and their families, and I also want to thank our Emergency Responders for getting to the scene as quickly as they did.
Columbia had not yet prepared a statement about the accident when contacted by The Observer.