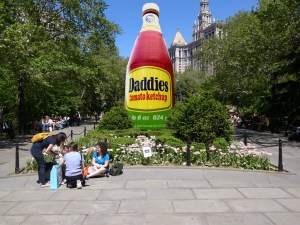 The Public Art Fund announced today its summer exhibitions, which will include a group show, "Common Ground," in City Hall Park with a 30-foot-tall inflatable sculpture of a ketchup bottle by Paul McCarthy, impromptu gatherings of singing choir boys and a bullhorn that will be activated once daily with a positive message. In parks elsewhere around the city, as Carol Vogel of The New York Times reported, Paola Pivi and Oscar Tuazon will create site-specific works.
Nicholas Baume, director and chief curator of Public Art Fund, told The Observer that the motivation for "Common Ground" was to try to answer the question, "As a culture, what is our common ground aesthetically as well as democratically?" The show, which opens May 24, will feature nine works (a combination of new and existing) by artists including Jenny Holzer, Elmgreen & Dragset, Justin Matherly, Paul McCarthy and Thomas Schütte.
Unlike last year's outdoor retrospective of sculptor Sol LeWitt, which explored the formal connections between the park and the grid and architecture of the city, "Common Ground" aims to connect symbolically with City Hall Park, insofar as it serves as, Mr. Baume said, "the literal and symbolic center of government, democracy and the social contract."
Paul McCarthy plays with the conventional idea of the monument by presenting a large-scale inflatable bottle of ketchup called Daddies Tomato Ketchup (2001). "The patriarchal monument becomes this big bottle of juicy ketchup," said Mr. Baume.
Justin Matherly's take on the famous Roman sculpture Laocoon, in the Vatican, explores the classical connections of art in public space, presenting a large-scale mixed-media sculpture of the head and a missing arm fragment of the Laocoon, made from concrete with a base of aluminum walkers.
"What's the common ground? What is our visual culture?" said Mr. Baume. "Is it Pop culture rather than the Laocoon?"
There will also be a few performative elements in the programming as well. Roger Hiorn's piece will involve impromptu gatherings of choristers. "When you least expect it," said Mr. Baume, "a group of choir boys will arrive, lie down, sing, then get up and leave." Elmgreen & Dragset's installation, It's Never Too Late to Say Sorry (2011), presents an aluminum bullhorn that will be removed from its metal-and-glass vitrine once a day and "activated" by someone who will use it to announce to passersby, "It's never too late to say sorry."