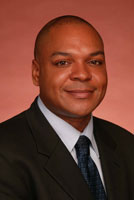 Assemblyman Karim Camara, who heads New York State's Black, Puerto Rican, Hispanic and Asian Legislative Caucus, announced his caucus' opposition to the legislative redistricting plan and suggested many legislators will vote to send the plan back to the drawing board today.
Mr. Camara argued the State Senate's plan violates the Voting Rights Act because it splits minority communities in Long Island, as well as other places, where they could be kept whole.
"We expect it to come to a vote today and we expect … it will have significant opposition to it. But our concern isn't whether this bill passes or fails," Mr. Camara told Fred Dicker on his radio show this morning. "Our concern is to use every legal recourse available, including the courts, to challenge the lines, which would include a strong possibility of a lawsuit by the caucus against the lines [regardless of] whatever happens today."
Traditionally, the Democratic-controlled Assembly and Republican Senate have allowed each other to gerrymander their own lines in a partisan fashion to expand their majorities. However, there is no inherent reason for this to be the case as the lines will be voted as a package in both of the two chambers.
Mr. Camara's caucus, in a statement today, "vowed to vote against the lines as they have currently been written for both the Assembly and Senate." If they acted in unison, there would be a strong possibility of derailing this package in the Assembly where the caucus possesses significant influence.
However, Mr. Camara, who called the Senate lines an "egregious assault on the Voting Rights Act" while praising the Assembly's map this morning, said no such unifying act was on track to occur.
"We have some members who will vote yes, some will vote no, for various reasons," he said. "We're not questioning the values of people voting either way. But, again, we're united in saying these lines are an assault on the Voting Rights Act."
When he was asked if could see the redistricting legislation being successfully voted down today, Mr. Camara responded, "Of course, there's always that possibility."