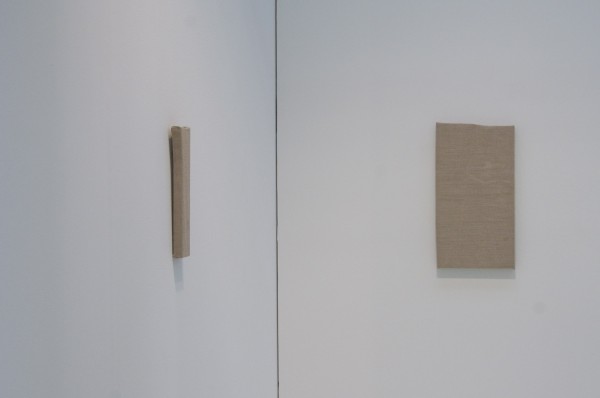 One of the pleasures of visiting the Armory Show's contemporary section on Pier 94 is the opportunity to catch up with the work of an artist one hasn't seen in a while. Case in point: Jacob Kassay, the young artist who gained a certain level of notoriety a few years back after his slightly charred, unabashedly beautiful silver paintings began fetching increasingly high prices on the secondary market.
Though his work has appeared in a handful of group shows around town, frequently at somewhat off-beat locations, like Brooklyn's Journal Gallery and Clearing last year, it's been a full three years since Mr. Kassay has had a one-person show in the city. (The closest we've gotten to a full exhibition was an elegant three-person show that set his work alongside that of Virginia Overton and Robert Morris, at Mitchell-Innes & Nash in 2010.) It's a relief, then, to see two new pieces by him at the booth of Lower East Side mainstay Eleven Rivington, which presented his first show in New York, back in 2009.
These small paintings are made of raw linen that the artist pulled over wooden stretchers. Simple enough, it would seem. But the stretchers have peculiar imperfections. They're not quite rectangles. The larger one bulges almost imperceptibly on its left side, and its top has a few tiny bumps, sloping down slightly from left to right. The smaller work looks like a slightly compressed model of Vermont or a long, thin cut of steak, thicker on the top than the bottom—it could almost be a broken-off hunk of an early Bruce Nauman painting or a badly damaged Barnett Newman wrapped in gauze.
Trying to make sense of new work that one has seen for only a few minutes at a crowded art fair is a fool's game, so we'll avoid that project here. The paintings, for the record, were $10,000 and $3,500—a reminder that prudent dealers do not price work, especially work by living artists, in lockstep with auction mayhem. Both works have sold, but they're on view to all interested parties through Sunday.