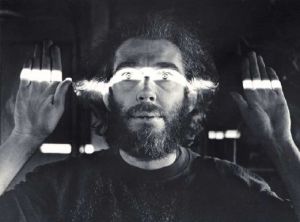 In avant-garde filmmaker Hollis Frampton's 1968 film Surface Tension, a woman in a white top appears six times in various locations over the course of a speedy two-minute-40-second tour of New York. She is, as Andy Newman writes on the City Room blog, the film's "one star," among a cast of hundreds of anonymous people caught on camera.
The woman, Mr. Newman reports, is Marcia Steinbrecher, Frampton's then girlfriend. The couple married before splitting a few years later, and artist Robert Huot shares this charming anecdote about their impromptu wedding:
"They tracked down a preacher man in Brooklyn, and we all walked across the Brooklyn Bridge – Twyla and me, and Carl Andre and Rosemarie Castoro, Hollis and Marcia… Afterwards we went out and had Indian food."
Oddly, though, after they broke up, it seems that no one knows what happened to her. The rumor is that she moved back to Chicago, where she had family, but no one is certain, and City Room is on the hunt. If you recognize her, or know where Ms. Steinbrecher may be, you're encouraged to drop Mr. Newman a line.
The City Room post came about because the Criterion Collection is getting set to release new Frampton DVDs. In addition, we just noted that Anthology Film Archives is going to screen his epic seven-part Hapax Legomena piece beginning Sunday. It's a Frampton spring!
A bit of related trivia for the road: in a published conversation with Carl Andre, Frampton remarked, "A picture is no substitute for anything," which Sherrie Levine and Louise Lawler adopted as the title for a series of one-night exhibitions and events.
But anyway, check the photos and let City Room know if you are aware of the whereabouts of Ms. Steinbrecher.