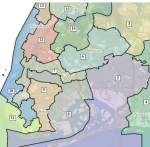 Councilman Charles Barron decided to make his beef over the court-drawn Congressional map formal, submitting a letter to the three-judge panel that outlined, in his opinion, the racial unfairness of the map. However, his arguments are either legally or practically questionable.
"After thorough review of these plans, I also noticed that racially, the white Congressional Districts would be more solidified with an overwhelming majority population, thereby making it almost impossible for them to lose any power," Mr. Barron, who's a candidate for Congress himself this year, wrote.
"For example, the new 27th District is 92.7% white, the 21st District – 91.6% white, the 23rd District – 90% white, the 19th District – 86% white, the 20th District – 79% white, the 24th District – 83% white, the 1st District – 77.9% white, and the beat goes on. The whites are secured in their power base."
This all contrasts, Mr. Barron said, with majority-black districts which contain much smaller majorities of around 55%. Mr. Barron cited Representatives Ed Towns' and Yvette Clarke's districts as examples. However, if these districts were to be brought up to significantly higher percentages as Mr. Barron requested, they would have to be combined, eliminating an African-American Congressional Member altogether.
Placing as many minority voters into as few districts as possible is a classic gerrymandering technique called "packing," and Mr. Barron's proposal may very well violate the Voting Rights Act. This packing often accomplishes partisan objectives and is partially blamed for the decline of the Democratic Party in Southern states.
"There have been attempts in the past by whites to secure seats in majority black districts," Mr. Barron nevertheless continued. "Remember David Yassky's attempt to take the Congressional seat formerly held by Shirley Chisholm and Major Owens in Brooklyn. … Blacks and Latinos must not let them divide and conquer us.  We must stay united and prioritize our people over personal and political interests. "
"Remember our struggle is long but the victory is certain," he concluded.
The court didn't only receive criticism from in their public submissions today. Mr. Barron's colleague, Brooklyn Councilwoman Tish James, wrote in to the court in praise of their draft maps.
Update: After the above submission displayed on the court's website, another submission from Mr Barron, as well as his wife, Assemblywoman Inez Barron, also appeared.
View Mr. Barron's letter below: