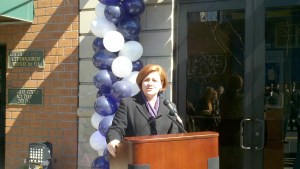 City Council Speaker Christine Quinn had some fun banter with one of her old friends who runs a social services nonprofit today.
At a ribbon cutting ceremony hosted by Donna Mae DePola, the president and founder of The Resource Training Center, Ms. DePola introduced Ms. Quinn by saying, "Our next speaker is a dear friend to me, even if I didn't get the 'Save the Date' for May 19th. She's getting married and I didn't get an invitation for thaaaat."
She added, "I asked to be her best man and she said, 'No.'"
Ms. DePola went on to proudly describe her experiences stalking the City Council Speaker, without it being entirely clear what that exactly entailed.
"I've stalked her for many years," she said. "I tried to see if she would go out with me. But her girlfriend Michelle said, 'No.'"
Ms. Quinn proceeded to shout out that her fiancée's name was, in fact, "Kim."
"I know, I know it's Kim. I wanted to see if you knew," Ms. DePola continued. "I sent pictures to Kim of me and Christine together and told her she had to be worried, and I did not receive a response."
For her part, Ms. Quinn said the stalking situation was more or less true.
"Funny story … We're turning up the block, and one of the detectives said, 'Is this the woman who kind of stalks you?' So yes, you're officially a stalker," she said, laughing. "I now have a watch list that you're the total member on."
"Everything she said is actually truth. She sent those pictures to Kim," Ms. Quinn said later in her speech. "I'm just laughing to myself. There's some stories I could tell and I won't because there's press here."
View the exchange below: