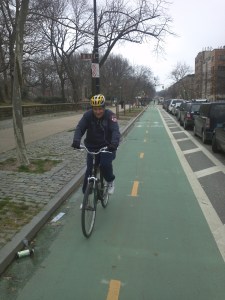 Maybe it was just the shortest route home.
Over the weekend, Chuck Schumer was spotted in the most unlikely place one might expect him, even though it is right outside his door. Senator Schumer has generally eschewed the controversial Prospect Park West bike lane, which his wife, former Transportation Commissioner Iris Weinshall, vociferously opposes in lawsuits and op-eds. An avid cyclist, the state's senior senator has neither supported nor opposed the lane. Perhaps he is now voting with his feet?
Bike advocate extraordinaire Paul Steely White, head of Transportation Alternatives, saw the senator coming at him on the bike lane this weekend and knew there was but one thing to do—take a picture and post it online. Mr. White told us that he never intended this to be a sensational moment, though.
"To me it wasn't a 'gotcha' moment at all," he wrote in an email. "It was more a validation of my ideal Chuck Schumer, the one who supports biking and transit."
It's true, Mr. Schumer has been a fierce advocate of projects ranging from Moynihan Station to the recent reinstatement of the commute tax credit, and he has opposed the crummy transportation bills to come out of both houses of Congress this year.
That said, on this one tiny nine-tenths-of-a-mile bike path, he remains mum. A spokesman for Senator Schumer declined to comment on the sighting.