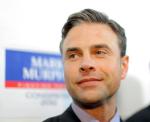 Last night, the executive committee of the Staten Island Democratic Party met to make formal endorsements for all of the 2012 races touching their borough. And, as reported by the Staten Island Advance, only Mark Murphy, a former aide to Public Advocate Bill de Blasio, interviewed for their endorsement to take on freshman GOP Congressman Michael Grimm.
A slew of other potential candidates have seen their names floated for the seat, including former Congressman Michael McMahon, Assemblyman Michael Cusick, Councilwoman Debi Rose, Councilman Vinnie Gentile, former President of the Staten Island Democratic Association Richard Reichard, and more, but they were all either uninterested in the race or declined to pursue the endorsement of the largest Democratic organization in the district.
Brooklyn attorney John Gangemi, who told The Politicker he was "likely" to challenge Mr. Grimm in January, additionally sidestepped the endorsement process that Mr. Murphy was favored to win regardless.
However, only Mr. Murphy has recently taken out a FEC committee allowing him to directly fundraise for the campaign.
With petitioning to get onto the ballot to begin soon, other potential Democratic candidates realistically have only a week or two to formally move forward with their campaigns.