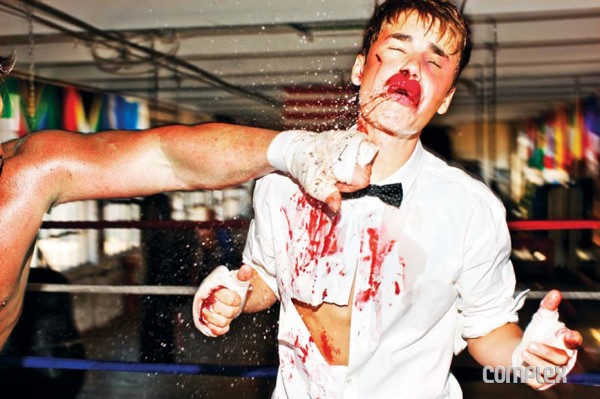 Complex just released the cover for their 10th Anniversary issue, which features Justin Bieber. This is odd, because the hip hop lifestyle and culture rag doesn't necessarily cater to the Tiger Beat set. Brilliant, because they found a way to sell it on everyone, from Bieber's most bloodthirsty, sadistic haters to the masochists among the Tiger Beat set: By bruising the face of Justin Bieber to the point of ugliness.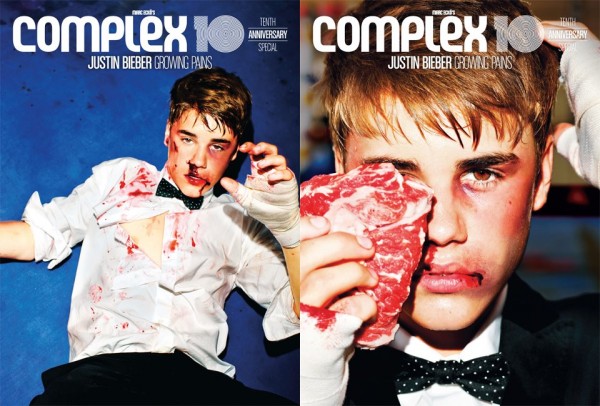 The profile, by Complex senior editor Joe LaPuma, has some Bieber-iffic gems:
The mood takes a turn when someone on his team hands him a BlackBerry that shows a photo of Swizz Beatz wearing an MCM jacket identical to the one he's wearing right now—the same one he proudly described as a one of one. Bieber immediately calls his stylist to ask why Swizz had the jacket first. There's a little bit of tension, but the conversation doesn't last long and ends with Justin saying confidently, "Well, whatever. I just rocked it here in France and it looks swaggy."
But the issue might as well be a victory lap for the magazine and the web network it's attached to, which has spent the last three years building a pageview minting-machine:
Of course, paginating stories and galleries across ten pages without a print option can help! As can the 87 other sites in the Complex Media Network (which includes, hysterically, FrankOcean.net—obviously not the singer's official page—and something called Basterdly.com), but Complex.com still receives the largest share of the traffic.
A decent haul: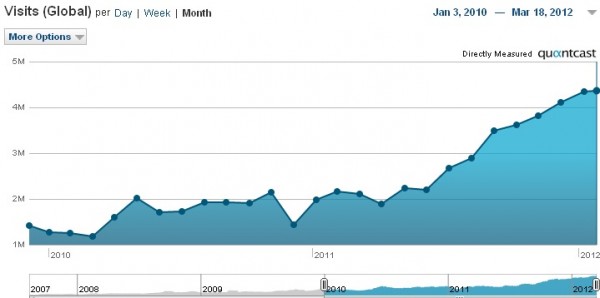 And they clearly know how to celebrate. By bloodying Justin Bieber's face.
If this does mark a stretch for Complex (given other recent, eye-poppingly smart covers), it's promising in the way that gimmicky weekly covers of recent (like, say Newsweek's stunt-tastic issues) are not, the same way George Lois-style "vision campaigns" of the past have been replaced by market-researched cover-lines and focus-group chosen celebrities that make up much of the newsstand's face right now.
Either way, it's fun to watch a street style and hip hop magazine bloody the face of Justin Bieber and chin-check its newsstand neighbors, who haven't producing anything this fun to look at in far too long.
fkamer@observer.com | @weareyourfek