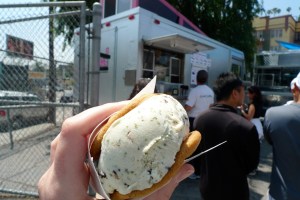 A beautiful press release just landed in our inbox stating that the redoubtable Los Angeles-birthed ice cream truck Coolhaus will be serving its mix-and-match ice-cream sandwiches and hot chocolate to visitors at the Flag Art Foundation on Saturday, March 10, from 2 to 4 p.m.
Yes, a representative at the foundation confirmed that the fine food is free to all visitors to Flag during those hours.
The privately funded Flag Foundation now has on view drawings by Richard Forster and a group show called "In Living Color" with pieces by Gerhard Richter, Olaf Breuning, Cy Twombly (a painting from the collection of Larry Gagosian) and others. Should be a really remarkable, delicious time. Mark your Armory Week calendars.