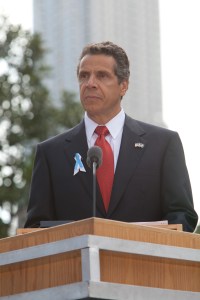 On The Capitol Pressroom this morning, the host, Susan Arbetter, pressed Governor Andrew Cuomo on whether he values the end product of legislation is more important than having a democratic and open process when passing it. Mr. Cuomo, who worked with the Legislature to pass a massive set of bills while you were probably asleep last night, said he wasn't especially worried about the issue.
"The issue of transparency always comes up in Albany," Mr. Cuomo admitted. "It's true, you can always have more transparency. On the other hand, I think you can become overly fixated with observing … process with no product."
Mr. Cuomo has seen criticism of his administration's transparency increasingly grow in recent months, especially with his sudden and unexpected overhaul of the state's tax structure, but he points to his legislative accomplishments in order to justify Albany's often-obscure processes.
"For many years, the complaint in Albany was, 'It doesn't perform, nothing ever happens,'" he told Ms. Arbetter. "And you look at the issues that we just acted on, finally. Susan, what could you possibly want more discussion or transparency on? You want to talk about redistricting more? You and I have had the same conversation on redistricting five times."
"Transparency, backroom dealings, they talk about this in Albany all the time," he later added.
"You can't live your life in a goldfish bowl."