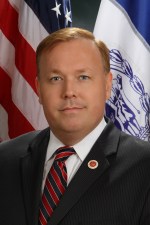 Queens Republican Councilman Dan Halloran will announce on Monday that he is running for Congress for the seat currently held by retiring Rep. Gary Ackerman.
Mr. Halloran is so far the only announced Republican interested in the seat. Three Democrats are vying for it so far, including Assemblyman Rory Lancman, Assemblywoman Grace Meng and City Councilwoman Liz Crowley.
It is a race that is, at the very least, bound to be entertaining–the Queens County Democratic Party has backed Ms. Meng, even though Ms. Crowley is first cousins with the leader of the party, Congressman Joe Crowley. And Mr. Lancman has had his eye on Congress for nearly a year, first preparing to run against Congressman Bob Turner, until he was redistricted out, then against Mr. Ackerman, until he retired.
The emergence of Mr. Halloran all but guarantees that the race will remain worth watching through the  fall. Mr. Halloran is one of the most colorful characters on the City Council, and his bio includes the fact that he is the leader of a local Pagan group, had a videotaped confrontation with a ticket agent, and sparked a Department of Investigations inquiry after he claimed that he personally knew of sanitation workers who deliberately sloughed off snow removal during a blizzard to protest Bloomberg administration policies (the investigation found no truth to the claims).
Mr. Halloran is also a frequent guest on Fox News and a public backer of Ron Paul's presidential bid.
He faces a relatively steep climb, whoever emerges as the Democratic nominee. The district is very Democratic, and constituencies that could be counted on to potentially back a Republican — such as Asian or Jewish voters — would likely tilt towards either Ms. Meng or Mr. Lancman if one of them is the nominee.