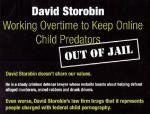 Yikes!
An attack mailer from the New York Democratic Senate Campaign Committee is accusing Republican State Senate candidate David Storobin of wanting to protect online child predators, because his law firm's website indicates they would defend related federal cases in court.
The mailer, forwarded to The Politicker by a reader in the district, goes straight for the jugular, announcing not only that Mr. Storobin "doesn't share our values," but that he is a "shady criminal defense lawyer whose website boasts about helping defend alleged murderers, armed robbers and drunk drivers."
"Even worse, David Storobin's law firm brags that it represents people charged with federal child pornography," the mailer further reads. "David Storobin should be ashamed."
The text is all placed next to the face of a crying child.
It's difficult to determine the extent Mr. Storobin's Democratic opponent, Councilman Lew Fidler, can be blamed for the attack. Mr. Fidler transferred at least $27,000 to the Senate Democratic Campaign Committee, likely to take advantage of the bulk postage rates the statewide committee possesses.
Mr. Fidler and Mr. Storobin are competing in a high-profile special election to replace corrupt former State Senator Carl Kruger. Voters head to the polls on March 20th.
Update: A Republican source emails a note, asking, "[S]ince we're talking about outside jobs, how about Lew Fidler's??" The source points to item #4 in this City & State post.
View the mailer below: