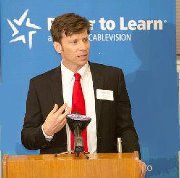 Successive press releases late last night announced the Dutchess County Democratic Party's endorsement of Julian Schreibman as their candidate against Congressman Chris Gibson, Justin Wagner against State Senator Greg Ball, and Matt Alexander against Congresswoman Nan Hayworth. However, it is Mr. Alexander who is facing the most competitive race of the three and whose endorsement stands out.
Mr. Alexander, the mayor of Wappingers Falls, dropped some Occupy Wall Street-esque rhetoric in his statement touting the backing.
"I am in this race to fight for the 99%, and that is a particularly important agenda for the folks living in the cities, towns and villages of our new district, each of which face unique challenges," he said. "We need a new urban agenda for economic development in the Hudson Valley's cities, and we need a new representative in Washington to deliver it."
According to release, the final breakdown between the candidates in the weighted vote was:
Matt Alexander: 8,739.0 (90.0%)
Sean P. Maloney: 528.0 (5.4%)
Rich Becker: 309.5 (3.2%)
Duane Jackson: 80.5 (1%)
Tom Wilson: 45.5 (<1%)
(The statement said union activist Anne Jacobs Moultrie had dropped out).
Dutchess County is split between two Congressional Districts under the new restricting plan but has a substantial presence in Ms. Hayworth's new seat. Orange County, the largest in the district, previously saw its Democratic Party endorse Mr. Becker.
The City of Poughkeepsie's Democratic Committee also got behind Mr. Alexander for the June 26th primary last night.